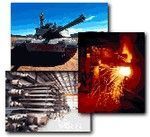 Engineering360 has asked its users about the latest design trends and features related to Carbon Steels and Alloy Steels. They have also shared their product applications and tips on how to buy and use these products.
See the entire survey
Do you have any advice for people relative to buying or using carbon steels or alloy steels?
52 answers
Make sure that the material that is being purchased will perform to the engineering specs and will be able to be machined and / or welded to the prints, as necessary, before making the purchase. Also, check for any necessary heat treating actions that may be detrimental to the final condition of the material. Check to find out if material certifications are required before ordering, acquiring them after the fact costs more and is harder to get.
~Paul V, Quality Control, Everett, WA
Ensure that the material is vacuum-melted to reduce the amount of slag inclusions in the alloy. These inclusions are terrible in a fatigue loading environment. Chemical processing of the alloy can also etch out ditches where the slag inclusions used to be to create stress raisers. Hydrogen can also be picked up during chemical processing as well, leading to embrittlement.
~Dan Wallem, Metallurgical Engineer, Renton, U.S.
Pay attention to what engineering specs out on prints and make sure the material purchased meets those criteria. In today's steel market, the alloying elements range so drastically that steel from one supplier might act totally differently than that from another. Especially in the heat treating operations.
~James D, Marketing/Sales, Kaukauna, WI
Research well the steels you need in any design, there are vast number of carbon and alloy steels that are used today, but equally there is plenty of information that can be sourced via the internet or technical organisation to assist in the design process.
~Alan J, Engineering Consultant, Birmingham, United Kingdom
Find a trusted supplier with a metallurgist that can communicate with technical professionals and lay persons. Many people buying and specifying steel goods can only read a spec, they do not understand property trade-offs
~Josh B, Marketing/Sales, Houston, TX
For complex applications don't just specify standard grades - give an indication of requirements in use and process route after purchasing the steel (better grades than are commonly in standards may be available)
~Research & Development, Rotherham, United Kingdom
If the application is moderate to highly critical, check the MTR. And it doesn't hurt to verify the stated MTR material properties occasionally with an outside testing house coupon test.
~Mike R, Engineer, Edmonton, Canada
VERIFY the source. VERIFY the source's ability to provide valid physicals and chemicals on the material. Define the heat treatment and handling of the steel to the exact detail.
~Stan V, Quality and Regulatory, Greenville, SC
Be careful with dissimilar metals in connections and make sure you use the most common sizes, even if it requires using a size a little larger than the calc says is necessary.
~Scott B, Senior Structural/Mechanical Designer, Aiken, SC
In critical applications - initially over specify pre-finishing inspection - once the steel is qualified and consistent, you can back off on the amount of inspections.
~Senior Engineer, Solon, OH
Stay away from Chinese product. They produce poor quality material, they lie on their material certifications and it is worthless; a waste of time and money.
~Burl R., Owner, design engineer, manufacturer and marketing, Chugiak, AK
Buy steel with specification per DWG. Try to negotiate cost. If all steel buyers will push steel suppliers to keep costs down, steel market should stabilize.
~Eugene P., Sr. Specialist, Reynoldsburg, Franklin
Ask for the chemistry reports before buying. Have alternative choices in mind in case the material is not available in the size you want.
~Ralph Russell, Manufacturer, Chicago, IL
There is chance of mix up of different grade of alloy steel. It is advisable to carry our PMI or material grade analysis for entire lot.
~Minesh A, Engineer, Nagda, India
Care matching physical requirements with material grade characteristics. Read mill test reports to verify grade adherence.
~Rodney L, Marketing/Sales, Boerne, TX
Use leaded steels for machining when possible. Design in sheet metal and use laser sources for low run and prototype jobs.
~Terry R, Design Engineer, Toledo, OH
Do buying of standard matl's & also think it of for the cost cutting in processing or producing more.
~Saravanan Pazhani, Purchaser, Chennai, India
When buying, partner with a reliable source that has strong mill relationships and sound financing.
~Jim F., Account Manager, St. Louis, MO
Carbon steel alloys and alloy steel provide us with different alternatives to improve applications.
~Lopez V., Engineer Coordinator, Del Rio, TX
The choice of a material must be the result of a consensus between designer and heat treater.
~Richardeau P, Process Engineer, Herstal, Belgium
Recognize the application and the lower limit chemistry specification for that application.
~John N., Quality Assurance Manager, Welding Engineer, CWI, Warren, MI
Lock in best price, quality and delivery possible for the next three months.
~Mike M, Consultant, Charlotte, NC
Spl alloy steel for high saline water applications other than titanium /tantulum etc
~Ramesh Visvanathan, Marketing/Sales, Chennai, India
Know what the application is going to be and what the hardness requirements are.
~Bob W, Quality Control, Edmonton, Canada
Do not use stainless steel or alloy steel just to avoid unknown corrosion risks.
~Guglielmo T, Process Engineer, Milan, Italy
Do your homework and be aware of the properties - both positive and negative.
~Jay B, Process Engineer, Milwaukee, WI
It is important to know in detail international steel product forms standards.
~Quality Control, Ailes, Spain
Create strong relationship with suppliers to ensure material availability.
~Christian B, Strategic Purchasing Manager, Essen, Germany
Compare and research, customer database will answer more than the producer.
~Ryan Burris, Civil, Mech Engineer, Lakewood, CO
CIQ & SGS is essential , do not accept any deal without them.
~Eng. Mahmoud Samy N., Project Manager, Cairo, EGYPT
Look for experience and quality of suppliers, not for lowest price.
~Kåre J, Engineering Consultant, Vihals, Norway
Chemical composition is important, but it is not only requirement.
~Hellen He, Technical Support, Xiamen, China
Only that the specifics on mechanicals are completely spelled out
~Robert D, Marketing/Sales, Austin, TX
They have to fulfill the specs according to SAE or ASTM standards.
~Murat G, Quality Control, Izmir, Turkey
Look at final properties, not the specific value in a standard.
~Sten F, Business Area Manager, Jönköping, Sweden
Always look for the steel suited to the particular application.
~Chhagan Bihany, Director of own company having a graduate mechanical engineering degree., Kolkata, India.
Experience is a better teacher than books and specifications.
~Fred B, Engineer, Burgess Hill, UK
Understand the materials and the applications before buying.
~Roger B, Engineering Consultant, Peachtree City, GA
Country of Origin + Mill melting the steel are important.
~S K Chimbili, Research & Development, Houston, TX
Double check availability of shapes and thicknesses.
~Alfred S, Design Engineer, Saddle Brook, NJ
Make sure that they understand what they are doing.
~Trevor A, General Management, Lambton, Australia
Shop around. Quality and price differ greatly.
~Bill W, Manufacturer, Buchanan, VA
Mirostructure beside chem.& mech. properties.
~Abdelhamid M, Technical Support, Cairo, Egypt
Bloom cast if available is preferred to EAF
~Quality Control, Roanoke, IN
Do not be put off by the country of origin.
~Purchasing, Oldbury, Great Britain
Reduce number of specification/standards.
~Neil I, Quality Control, Brighton, UK
Welding procedure Tempering quality
~Razak, Process Engineer, Rawang, Malaysia
Know your vendor, know your specs.
~George F, Manufacturer, Erie, PA
Shop around, prices vary greatly
~Steve K, Project Manager, Portland, OR
Measure twice and cut once.
~Matt S, Project Manager, Belfast, Northern Ireland
Source - Source - Source
~Richard M, Facilities Manager, Houston, TX
Watch tramp elements
~Tibor Oravec, Engineer, North Canton, OH