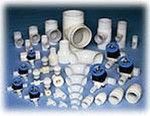 Engineering360 has asked its users about the latest design trends and features related to Industrial Pipe. They have also shared their product applications and tips on how to buy and use these products.
See the entire survey
Do you have any advice for people relative to buying or using industrial pipe?
23 answers
Check actual offer of manufacturers and delivery time, consult with the client for materials and schedules standarization (piping class document ), optimize sizes and schedules to avoid huge variety of these, select materials according to design temperature, design pressure and handling fluid, use standard sizes for piping, check piping documentation and quality certificates, check piping physically when arrive to warehouse (hits, bumps, deformations, defects, imperfections, etc)
~Alfredo R, Engineering Consultant, Maracaibo, Venezuela
Have an intimate knowledge of ASME B31.3 and the other ASME B31 series piping codes covering the system applications of interest. Research all applicable ASTM material codes when designing and selecting pipe and pipe fitting materials. Have ASME Boiler and Pressure Vessel Code as a ready reference for welding and pressure relief requirements.
~Larry D, Design Engineer, Slidell, LA
Buy in quantities large enough to avoid shipping costs. Shipping costs can be very significant with the price of diesel fuel. Try to get a good 'take off' from the P&ID's to allow for valve purchase in a large lot ( try for an 80 -90% original buy out and get a 1 year price guarantee)
~Mike C, Project Manager, Culver, OR
Check quality of steel required, avoid purchasing cheap Asian pipe (with high silicon content), especially if you want to galvanise etc.
~Steve H, Design Engineer, Melbourne, Victoria, Australia
Order pipe with end caps to exclude gravel, debris, water and rodents while material is stored and moved around the job site.
~Chuck L., Des/engr, Paso Robles, CA
If you're using a lot, find a large supplier and buy bundles. Smaller users find reputable steel service centers.
~Len M, Estimator, Tilbury, Canada
A lot of dubious pipes are entering markets and can have safety concerns. Please exercise caution.
~B M, Quality Control, Vadodara, India
To use new generation of pipes not in steel material anymore
~Dragan Selmic, Marketing/Sales, Belgrade, Serbia
Short trainings or information of piping specifications.
~Angel V, Facilities Manager, Sabanetas, Ponce
Be open for applying new solutions and new technologies.
~Yosi B, Technical Support, Golan Plastic, Israel
Check the specification, buy from a reputable source.
~Engineers merchant, Laxey, United Kingdom
Check availability before designing into a project.
~Bruce C., Facilities Manager, Newton, NC
Watch for pipe pricing escalation when estimating.
~Anthony B, Sales / Estimating, Albuq., NM
Make sure you understand applicable regulations.
~Patrick L, Regulator, Montreal, Canada
Spec it for the application it will be used for.
~Tom Q, Facilities Manager, Media, PA
Follow the standard for design the network.
~Mohamed alaa el-din B, Technical Support, Rayadyha, Saudi Arabia
By American when possible.
~Thomas B, Marketing/Sales, Syracuse, NY
Get European made ones, they last longer.
~Dan P, Engineer, Sede Boker, Israel
Beware of the quality from the supplier.
~Senior Technical Advisor - Piping, Birmingham, AL
Purchase only that specified
~Alfredo A, Design Engineer, Lima, Peru
Rise the industry standards
~Pipeline Engineer, Vancouver, Canada
Measure twice, cut once
~Robbie N, Piping Superintendent, Walnut Creek, CA
Follow the spec's
~Joe M, Project Manager, Hillsboro, OR