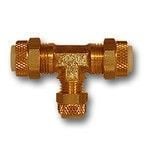 Engineering360 has asked its users about the latest design trends and features related to Tube Fittings. They have also shared their product applications and tips on how to buy and use these products.
See the entire survey
Do you have any advice for people relative to buying or using tube fittings?
24 answers
Yes, low pricing usually is a main driver for selecting a tube fitting supplier. I'd suggest making sure quality is up to snuff, as a low price today won't lead to lowest long term cost for upkeep. If OEMs sell a quality system, don't be scared to pay for a quality product.
~Jeff K, Marketing/Sales, Atlanta, MN
Cheapest isn't always best. You get what you pay for. (beware low cost imports) Buy your tubing from the same manufacturer as the fittings, this way you are assured the same quality standards are used.
~Robert Keller, Marketing/Sales, Suwanee, GA
Do not skimp on the fitting specification wrt line pressure specify correct material for process conditions match threads to avoid unsealable leaks use proprietary sealant on high pressure lines
~P J O C, Engineering Consultant, Cork, Ireland
Know the products you are using, what is the cleanliness level for fittings? What kind of application you have, need an increased corrosion resistance, temperatures in the system?
~Sampsa V, Technical Support, Jyväskylä, Finland
If not familiar with products read up on it, plenty of information available, know application details, etc working pressure, medium conveyed, thread types.
~Deon V, General Management, Gosford, NSW, Australia
Decide the thread types that suit your needs and stick to it mix and matching between metric and imperial fittings costs a premium.
~Rodger Trounson, Marketing/Sales, Invercargill, NewZealand
People are not much educated about those. i.e. they should know where to use brass/ steel/plastic fittings.
~Vivek H, Marketing/Sales, Mimbai, India
Yes- Make sure boss design of components being ordered comply with fittings that are planned to be used.
~Dave C, Engineer, Stennis Space Center, MS
Be very clear to requirement and application, should be compatible with tubing.
~Naeemuddin A, Facilities Manager, Fujairah, UAE
Do not mix pieces from different manufacturers even if they claim you can.
~Marketing/Sales, Boxford, MA
Make sure you know the difference between tube sizes and pipe sizes.
~Timothy D, General Management, Brainerd, MN
Learn how pipe threads can look the same but actually be different.
~J-dub, Research & Development, Seattle, WA
Establish a good relationship with an experienced person
~Engineering, Design, Rugby, United Kingdom
Not in the specific areas that we have discussed.
~Ray W, Engineer, Sydney, Australia
Try to stick with industry standard fittings.
~John R., Engineer, Fort Wayne, IN
Check quality, hardness and plating.
~John D, Product Manager - Hose & Fittings, Dandenong South, Australia
Be careful of no-name brands
~Hilton L, Technical Support, Mossel Bay, South Africa
Check the country of origin.
~FRED O, Marketing/Sales, MIAMI,
Buy the best don't cheap out
~Clive S, Production Engineer, Waterdown, Canada
You get what you pay for.
~Steve K, Marketing/Sales, Auburn, MA
Application dependent
~Research & Development, Leiden, Netherlands
Brass is preferable
~Carl S, Marketing/Sales, Nashville, TN
T5 lamps with 28W
~Shanmugasudaram Rengasamy, Maintenance manger, Coimbatore, India
Shop
~Marketing/Sales, N. Royalton, OH