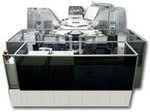 Engineering360 has asked its users about the latest design trends and features related to Thin Film Equipment. They have also shared their product applications and tips on how to buy and use these products.
See the entire survey
What would your design or feature "wish list" be for this product?
6 answers
Additional Plasma source to improve ionization level during deposition. Droplet-free Arc coating with high degree of adhesion. Cryo pump for pumping out moisture.
~Loganathan S, Research & Development, Bangalore, India
Large area plasma enhanced chemical vapor deposition system using higher operating frequencies.
~Sushil Kumar, Research & Development, New Delhi, India
Combination coating technology equipment with process monitor and control.
~FANG L, Sr Staff Engineer, Northfield, MN
Advanced design
~Purchaser, Dongguan City, China
Cadmium Free
~Joachim M, CEo /Owner, Geisingen, Germany
Solar panel
~Technical Support/Services, Singapore, Singapore
Is there any advice you want to share with users to help them avoid common errors in selection or usage of thin film equipment?
5 answers
As well as the answer to Q8, the up front capital cost of any complex equipment is usually, in the long term, only a small part of the overall cost. Look at running costs and the level of support a company can give, both service and technical / process support. Also try and talk to existing users, not just those the company gives as references to get a view of the quality of support.
~Frazer Anderson, Business Director, Yatton, UK
Usually people make errors in choice of size of chamber without proper consideration of deposition area of sample.
~Sushil Kumar, Research & Development, New Delhi, India
Discussion with experts in this field will help us to zero-in on the right equipment.
~Loganathan S, Research & Development, Bangalore, India
Please have a look on your energy usage for the tool means CoO
~Joachim M, CEo /Owner, Geisingen, Germany
Search in the website for new technical
~Purchaser, Dongguan City, China