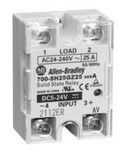 Engineering360 has asked its users about the latest design trends and features related to Solid State Relays. They have also shared their product applications and tips on how to buy and use these products.
See the entire survey
What new technologies are influencing solid state relay design?
12 answers
Isolation from one circuit to another. Speed of response of the semiconductor. Small voltage at device transformed to bigger voltage at output.
~Christopher F, Engineer, Mysore, India
Development of semiconductor devices, e.g. organic semiconductors.
~Vijay S, Professor in Electrical engineering department, Hyderabad, India
Cooling with heatsinks, overvoltage and current protection.
~LeRoy B, Research & Development, Aumsville, OR
PLC controlled green energy.
~Matti Niemi, Technical Specialist, VAASA, FINLAND
Fpga designs direct control
~Bob L, Engineer, Cape coral, FL
Digital control systems.
~James H, Design Engineer, Hodgen, OK
Triac opto isolators
~Gunnar H, Resource and development, Siglufjordur, Iceland
Mos, fet, opto, rf
~Terry B, Design Engineer, Wellington, Newe Zealand
Power consumption
~Brent G, Research & Development, Melbourne, Australia
Smd technologies
~Technical Support/Services, Potosi, Bolivia
SSPC
~Engineering, Consulting, Bengbu, China
Dk
~Justin E, Technical Support, Melbourne, Australia
From your perspective, which companies are creating the most innovative solid state relays?
11 answers
Omron, National Semiconductors, Semikron, Vishay.
~Christopher F, Engineer, Mysore, India
Crydom, SGS-Thomson Microelectronics, Philips
~Jim Rose, Design Engineer, Tucson, AZ
Crydom, Power IO
~LeRoy B, Research & Development, Aumsville, OR
Allen Bradley
~Technical Support/Services, Potosi, Bolivia
Unsure
~Terry B, Design Engineer, Wellington, Newe Zealand
Opto22
~Brent G, Research & Development, Melbourne, Australia
Celduc
~Matti Niemi, Technical Specialist, VAASA, FINLAND
Myself
~Gunnar H, Resource and development, Siglufjordur, Iceland
SSAC
~James H, Design Engineer, Hodgen, OK
DDC
~Engineering, Consulting, Bengbu, China
Dk
~Justin E, Technical Support, Melbourne, Australia