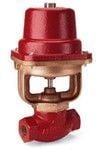 Engineering360 has asked its users about the latest design trends and features related to Control Valves. They have also shared their product applications and tips on how to buy and use these products.
See the entire survey
What new technologies are influencing control valve design?
12 answers
Machining of control elements and sealing surfaces. Actuator and control packages are also improving.
~Bill B., Engineer, North Augusta, SC
The use of bus systems like Profibus PA, DeviceNet, AS-i and similar networking protocols.
~Marketing/Sales, Jhb, South Africa
IQ control, intelligent control valve , IQ range actuators
~Vinoth J, Student, Kanchipuram, India
Mechanical parts used inside the valve.
~Metin Erim, Process Engineer, Mersin, Turkey
Foundry materials, and electronics
~John Dewar, Engineer, Sterling heights, MI
HVAC, beverage bottling companies
~Raul P, Engineer, Barrigada, Fed. state of micronesia
Material resistance science.
~Christian B, Facilities Manager, Labatut, FRANCE
Digital control technology
~Engineering, Faculty/Staff/Student, Abudhabi, United Arab Emirates
Smart positioner
~LEO B, Marketing/Sales, Cagayan de Oro, PHILIPPINES
Wireless,
~Engineer, Odessa, Ukraine
PICV
~Faisal MB, Engineer, Abu Dhabi, United Arab Emirates
PLC
~Engineering, Faculty/Staff/Student, Bridgend, Great Britain
From your perspective, which companies are creating the most innovative control valves?
13 answers
Fisher control valves, Xomox plug valves, Samson valves
~Marketing/Sales, Jhb, South Africa
Rotork controls India private limited, Chennai.
~Vinoth J, Student, Kanchipuram, India
Emerson Fisher Schubert Salzer
~Christian B, Facilities Manager, Labatut, FRANCE
Emerson Process Management
~Metin Erim, Process Engineer, Mersin, Turkey
Fisher, Worchester, Neles
~Bill B., Engineer, North Augusta, SC
Yamatake, Samson, Fisher
~LEO B, Marketing/Sales, Cagayan de Oro, PHILIPPINES
Watts, zurn, matco norca
~Raul P, Engineer, Barrigada, Fed. state of micronesia
Bray Samson Singer
~Faisal MB, Engineer, Abu Dhabi, United Arab Emirates
Fisher,valtech
~Engineering, Faculty/Staff/Student, Abudhabi, United Arab Emirates
Spirex zarco
~Engineering, Faculty/Staff/Student, Bridgend, Great Britain
Fisher, Tyco
~Engineer, Odessa, Ukraine
Plastomatic
~John Dewar, Engineer, Sterling heights, MI
Bray
~Engineering, Design, Indianapolis, IN