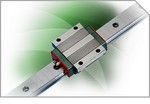 Engineering360 has asked its users about the latest design trends and features related to Linear Bearing Rails. They have also shared their product applications and tips on how to buy and use these products.
See the entire survey
What new technologies are influencing linear guide and rail design?
10 answers
I think as the manufacturing tolerances increase due to R&D on new CNC centers we will see an increase in greater precision being achieved. I'm not aware of any projects being undertaken at the moment to radically improve on linear guide and rail design, but you know what they say. ( when you least expect it! )
~Michael G, Linear Motion Design Technician, Perth, Western Australia
Solid bolt down rails are stronger than Thompson shafting.
~Tom, Tool & Die Maker, Chatham, Canada
Increases in speed of stepper and servo control systems.
~Marketing/Sales, Reading, PA
Manipulators, guiding systems, pushers, brakes etc...
~Marius Palisaitis, Design Engineer, Palanga, Lithuania
Polymer tech Extrusion methods Optical alignment
~Mark B, Chief Technical Officer, Tuggerah Business Park, Australia
Servo Drive system, Linear drive, etc
~Engineering, Design, Bogor, Indonesia
Impedance and electrochemical noise
~FAWAZ AGIZAH, Quality Control, CAIRO, EGYPT
Linear motors, linear actuators
~Mukund K, CEO, Pune, India
Motion control software
~Manufacturing, Chennai, India
SHS SERIES
~Engineering, Design, Shelby, MI
From your perspective, which companies are creating the most innovative linear guide and rail?
10 answers
In my opinion I would have to say that THK Japan would be one of the front runners in the Linear game closely followed by Bosch-Rexroth from Germany. There are some Taiwanese manufacturers that are producing some very good quality linear guides and rails at a cost effective price and I have used them with great success and have had great reviews from my customers who use these cheaper products.
~Michael G, Linear Motion Design Technician, Perth, Western Australia
Schaeffler group (INA) Nippon Thompson Co. Ltd Rexroth(Bosch)
~Bjarke M, Research & Development, 3450 Allerød Denmakr, Denmark
SKF, Rexroth (Bosh group), Festo, Igus, Flexlink
~Marius Palisaitis, Design Engineer, Palanga, Lithuania
General Electric and Nalco
~FAWAZ AGIZAH, Quality Control, CAIRO, EGYPT
THK, Bosch Rexroth
~Engineering, Design, Bogor, Indonesia
THK, Hepco
~Mukund K, CEO, Pune, India
M plus
~Engineering, Other, Anjar, India
Igus
~Petr Kulhanek, Purchaser, Trelleborg, Sweden
THK
~Engineering, Design, Shelby, MI
THK
~Marketing/Sales, Reading, PA