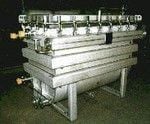 Engineering360 has asked its users about the latest design trends and features related to Filtration Equipment. They have also shared their product applications and tips on how to buy and use these products.
See the entire survey
What new technologies are influencing industrial filtration equipment design?
9 answers
The influencing of the industrial filtration equipment design usually associated with the the process requirement. The input ( the stock feed) parameter need to control or monitor to achieve value. Then, it will transfer into the "filtration system". In the filtration system allows certain process such as filtration cycle, cake washing, cake drying to expect the desired output. The output ( the product) can be the cake or the filtrate.
~Lee See Peng Lee, Design and R&D Manager (Projects), Shah Alam, Malaysia
Zeta potential has always been looked upon for removal of endotoxins and haze in whiskey products.
~Brian H, Marketing/Sales, Oldham, England
New neoconventionals technologies(f.e. laser technologies,ceramics material)
~Engineering, Process/Production, Bacau, Romania
Bag filters, cartridge filters, Teflon coating of filter elements
~Ron M, Process Engineer, Okmulgee, OK
Advances in wind, solar, hydro-electric technologies.
~Aldo G, Marketing/Sales, Iselin, NJ
Fully automated to avoid man hour barrier
~Thiyagarajan K, Technical Support, CHENNAI, INDIA
Nano particles filtrations
~Manoharan V.MANOHARAN, Manufacturer, Salem Tamilnadu, India
Simplicity is true genius.
~Wayne, Everett, WA
Efficiency
~Chris J, Project Manager, Auckland, New Zealand
From your perspective, which companies are creating the most innovative industrial filtration equipment?
9 answers
From my perspective of view, I may biased to Larox Hoesch / PMI - filter presses & Automatic Pressure filters. However, the new starter high growth company has innovative filtration equipment manufacturer with Intellectual Properties Protection that create a competition barrier to the established low efficient giant company. One good example is the Korean company in recent survey.
~Lee See Peng Lee, Design and R&D Manager (Projects), Shah Alam, Malaysia
Mostly the manufacturing companies like Pall, Sartorius, Parker/DH.
~Brian H, Marketing/Sales, Oldham, England
Jonell Eurasia Hyvac Sharplex
~Engineering, Process/Production, Bacau, Romania
Eaton, GE, Siemens, Vivaldi
~Aldo G, Marketing/Sales, Iselin, NJ
Goretex filter elements
~Ron M, Process Engineer, Okmulgee, OK
Latham International
~Chris J, Project Manager, Auckland, New Zealand
Domnick hunter. durr
~Thiyagarajan K, Technical Support, CHENNAI, INDIA
Hard to say
~Wayne, Everett, WA
Can't say
~Manoharan V.MANOHARAN, Manufacturer, Salem Tamilnadu, India