Air Care Dispensers Information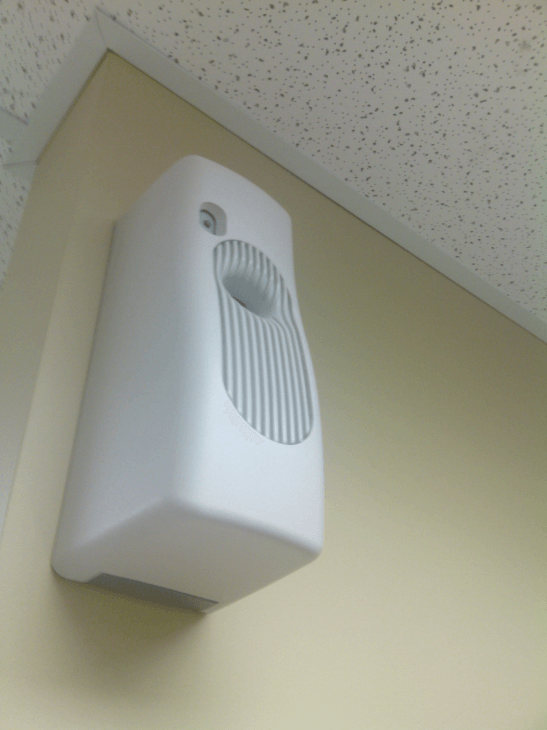 Air care dispensers circulate deodorizers and scent additives in a room or space. This is done to improve the inhabitability of certain areas with unpleasant odors. Air care dispensers can be used in confined or enlarged spaces, from restrooms to warehouses.
Operation
Air care is completed by eliminating and masking odors. Odor elimination is provided by chemical adsorbents, ozone, or air disinfectants such as glycols. Overpowering odors with pleasant fragrances is also a solution. A large variety of fragrances are offered, from those associated with clean linen or flowers, to more inert and neutral smells. Fragrance selection is largely dictated by user preference and deployment location. Premium aromatherapy fragrances that promote general well-being are also offered.
Types
Passive: The air care dispenser emits a low concentrated but continuous fragrance. No propellants or VOCs are used; natural passive air circulation proliferates the deodorizer and scent throughout area. These typically consume cartridges that are disposed once depleted.
Metered: The dispenser distributes deodorizer and scent at predefined intervals. It can sometimes be witnessed streaming a cloud of atomized liquid or aerosol deodorizer. These models usually rely on electric power from a power socket or battery, and may include features such as definable intervals, day and night scheduling, locks, and low or empty reservoir indicators. Metered dispensers sometimes have a manual switch so a user can add deodorizer on demand.
Hybrid: This includes newer dispenser appliances that use a piezo device to continuously atomize deodorants and fragrance microparticles, which remain airborne longer than aerosols.
Applications
Common applications include:
Restrooms and bathrooms
Food service and kitchens
Nurseries
Gyms
Vehicles
General maintenance
Healthcare environments

Retail locations, such as a pet store
Image credit:
GlobalSpec Inc.