Napkin, Tissue, and Towel Dispensers Information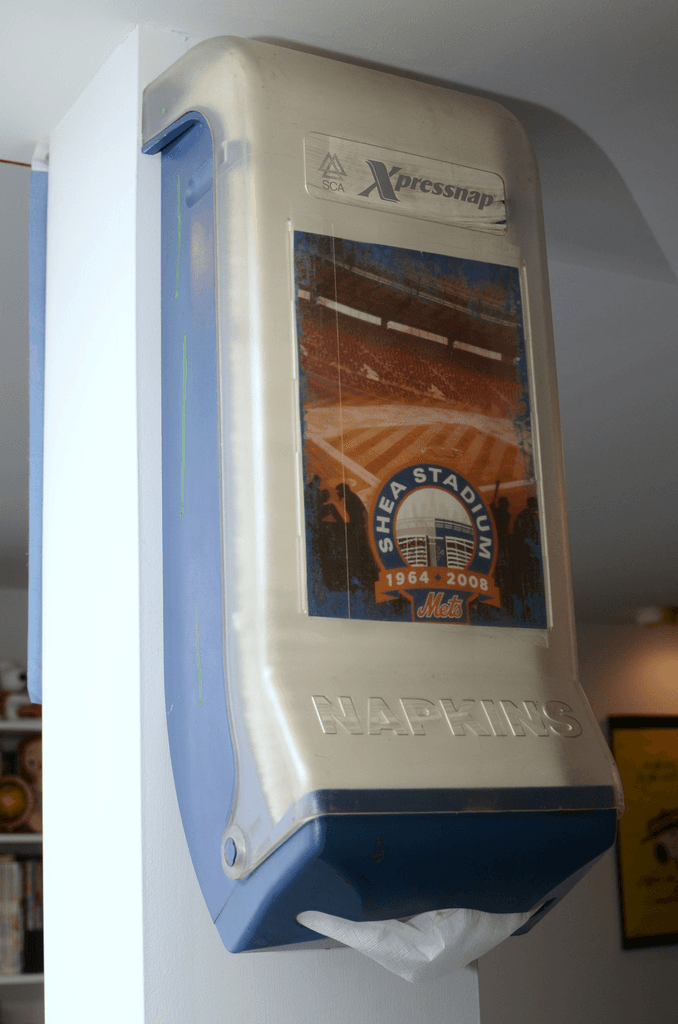 Napkin, tissue, and towel dispensers enable organized storage, easy access, and a replenishing feed of these common paper tissue or cloth products.
Operation
Dispensers enable easy retrieval by spring-feeding or gravity-feeding napkins, tissues, or towels towards an access port in the dispenser, or by folding and stacking the products in a way that positions subsequent products for easy removal. Dispensers can serve multiple users before needing to be restocked. Dispensers also keep stored products organized and unsoiled.
Paper
Paper tissue is a lightweight paper manufactured from deinked and virgin pulp sources. It is valued for its absorbency and ease of processing. This makes it ideal for disposable products that clean, apply, or remove various substances, including foods, liquids, solvents and cleaners, and bodily fluids. Paper tissue is easily configured for different tasks. Increasing the levels of northern bleached softwood kraft and chemi-thermomechanical pulps increases the paper's absorbency. Calendering improves material smoothness and softness and more resin increases the wet strength of the paper tissue. The material can also be printed with images or logos.
Cloth
Fabric-based napkins and towel dispensers are less common, but nonetheless produced and available.
Types
Napkin
The paper napkin holder is the simplest dispenser. Napkin stacks are laid horizontally with an optional paperweight, or wedged between two vertical surfaces; in both instances users pick from the stack at will.
Paper napkin dispensers also accept stacked bundles. Dispensers that orient napkins vertically use a spring to maintain positive pressure on the napkin bundle, or feed the bundle to dispenser port. Dispensers with horizontally stacked napkins use a spring to push napkins to a topside port in the dispenser, or use gravity if the port is on the underside; in both instances an interfold presents the next napkin for easy grabbing. Napkins manufactured on a roll require a roll-style dispenser that may include a dull serrated edge for tearing.
Cloth napkins, when dispensed, can be placed in a napkin holder or are rolled and stacked in a receptacle.
Tissue
Facial
Paper facial tissues are most commonly stacked in a fiberboard box, which like the tissues is also disposable. The user tears away a section of the box for access and the tissues use an interfold stack. Dedicated facial tissue dispensers resemble a box with a port for tissue retrieval, but are usually metal or plastic and can be reused.
Toilet
Dispensers supply toilet-side access to a toilet tissue roll. Public restroom dispensers often situate a tissue roll in an enclosure that may have a dull serrated edge and multiple rolls for convenience. More private restrooms typically elect to place the roll on a basic shaft where the user tears the tissue away.
Towels
Paper towels are supplied as either rolls of perforated sections of paper tissue, or are interfold stacked. Roll-style paper towels are installed on a horizontal or vertical shaft and the user tears off the quantity needed. In public locations, such types are often enclosed by plastic or metal. The user actuates towel dispensing by lever, pulling an exposed towel, pushing a button, or activating the motion sensor.
Interfold stacked paper towels use dispensers to spring-feed or gravity-feed towels towards the dispenser port. This type of paper towel can also use a towel holder, akin to a napkin holder.
Clothe towel dispensers implement a roll of clothe towel that hangs below the dispenser and connects to a second roller underneath the machine. Users pull on the roll for a clean section of cloth towel, while the used section is refurled. The cloth towel can later be cleaned and reused. This is a sustainable solution but does not allow the user to bring the towel to an application, such as a spill clean-up.
Specifications
Actuation: active dispensing mechanism (e.g. lever, servo, spring)

Automation: the dispenser detects a user presence and distributes the product

Quantity: amount of napkins, tissues, or towels the dispenser can hold

Dimensions: physical space the dispenser occupies

Mounting: dispensers are typically wall-mounted, surface-mounted, or standalone
Features
Locking: a locking mechanism prevents unauthorized access to the roll or stack

Graphics: a supplier can print images or words on the dispenser

Mirror: an integrated mirror

Low fill indication: a clear design or window or electronic indicator that identifies a need for restocking

Wastebin: an integrated waste receptacle

Adaptor: the dispenser can handle paper or cloth products
Resources
Wikipedia—Napkin holder; Paper towel; Tissue paper; Facial tissue
Webstaurant Store—Roll Napkin Dispenser; Foodservice Dispensers (.pdf)
Image credit:
slgckgc via Flickr | Nick Gray via Flickr