Trade Show, Conference, and Exhibition Support Services Information
Trade show support, conference support and exhibition support services design trade show booths, portable and custom exhibits, and related marketing materials. Service providers can handle steps ranging from des
ign to setup to tear-down of trade show booths. Other services provide equipment and services to run the event.
A trade show, also known as a trade fair, is an exhibition related to an industry or topic. Some features of a trade show may include:
Booths where organizations display their information and answer questions about their products or services.
Seminars, panels, or conferences for people to get the latest information or learn more about a particular company.
Booth and Display Services
Exhibitors often display information and products in booths on the trade show floor. Booths may occupy a small amount of space or can be large floor displays that occupy a large area of square footage.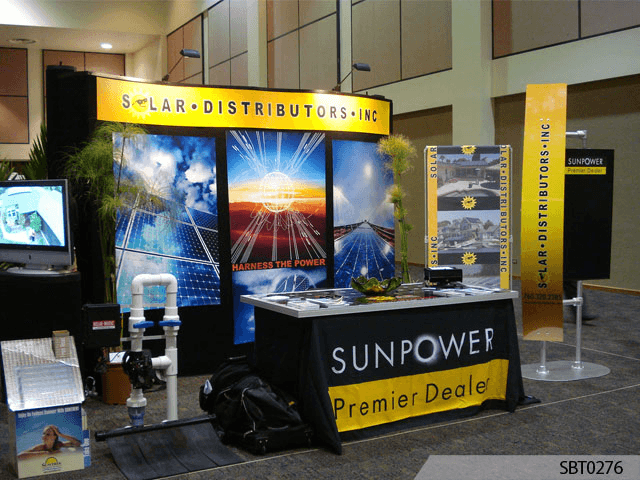 Image Credit: Signs by Tomorrow
Organizations that exhibit at several shows each year have custom-built displays that can easily be assembled and then broken down to take to the next event. Exhibits should be lightweight, durable, and inexpensive to ship.
The purpose of booth exhibits is to catch the eye of the passerby; they should be attractive, with high-impact colors and graphics. They can include dimensional and architectural signage, computer-cut vinyl graphics, banners, and large-format printing.
Promotional Products
Exhibitors distribute promotional products to attract visitors to the booths and help keep top-of-mind awareness after the event. Examples of promotional items include flyers, t-shirts, mugs, pens, bags, business cards, and coupons.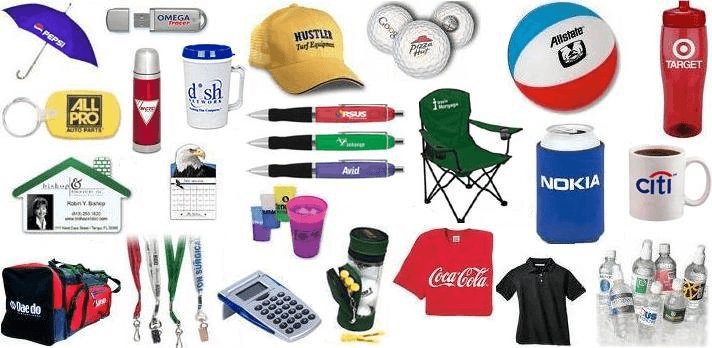 Image Credit: Creative Printing Orlando
Flyers and brochures are provided as literature for people to take with them and to learn more about a particular product or service at a later time. Because trade shows often have a large number of exhibitors, attendees cannot always spend much or any time at each booth.
Logistics
Service providers provide logistical support before, during, and after the event. Logistics providers pack and ship displays and promotional items to the event location. They must coordinate these services carefully because there is often a limited timeline to get the items to the venue.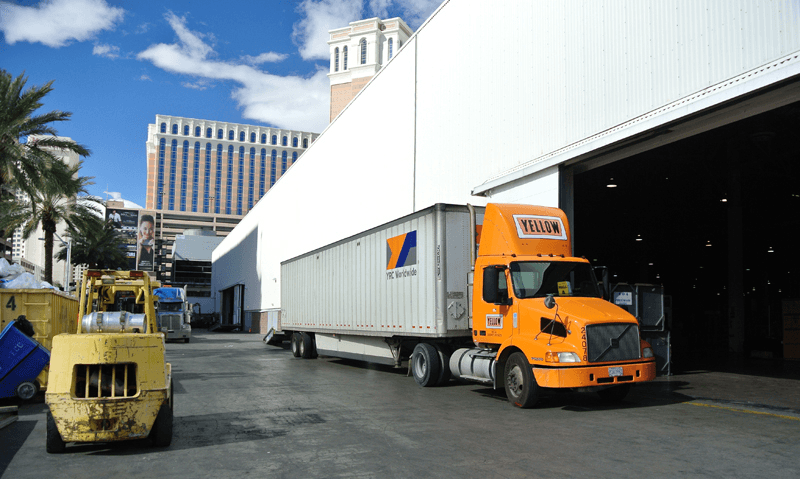 Image Credit: ExhibitServices
At the event, logistics service providers complete registration and setup of the booth. These providers notify the company representatives at each step. When the event is complete they re-pack everything and ship it back to the organization or on to the next event.
Event Services
A trade show can be put on by an industry such as IEEE or an organization like IHS GlobalSpec. A trade show can be a gathering of people at a certain place and time, it may be accessed digitally, or it may be a combination of both methods of access.
Physical Events
Trade shows are typically scheduled a year or more in advance and can range from a handful of attendees and exhibitors to thousands. Shows may be located at hotels, conference centers, or dedicated event spaces such as the Hanover fairground.
A number of services are related to operating physical trade shows:
Rental of office equipment and supplies like paper, audiovisual equipment, computers, fax machines, and photocopiers are obtained to facilitate the show.
Equipment rental including tables, chairs, linens, and signage may be provided by a facility like a hotel or may need to be rented.
Digital signage is used by people to find their way around the event. It can also serve as advertising. The display may include touch-screen interaction.
Staff is needed to register attendees and exhibitors, run the booths, operate equipment, and provide general support.
Internet access and webcasting provide wireless access for attendees and exhibitors and make the show available to individuals that are off-site. Online access may be live or archived for later use.
Virtual Events
Virtual events can be accessed online. They might be live or archived versions of physical trade shows or events that are held entirely online. Virtual events are becoming increasingly popular because they reduce travel and living expenses.
Video Credit: IEEE GlobalSpec / CC BY-SA 4.0
There are some services that are unique to digital events:
A platform to run the show and allow attendees and exhibitors to interact and obtain information.
Webcasting delivers audio, video, and presentations to off-site attendees.
Support to troubleshoot problems and assist attendees and exhibitors with accessing the event.
Some services available to exhibitors at digital events include:
Creation of presentations for panels.
Marketing materials such as banner ads and documentation that may be downloaded by attendees.
Attendance Tracking
The tracking of attendees has been automated at some shows. This information creates leads for exhibitors to follow-up with after the show has ended. Tracking includes visitors to a particular booth and people who attended particular events at the show.
Often, these systems use barcode, radio frequency identification (RFID), magnetic swipe, or smart card technologies. Special tracking software can also help exhibitors distinguish qualified attendees from people who are not registered for a particular event. Services that provide electronic lead retrieval are also commonly available. These companies can train exhibitors how to use capture data using specialized software. They may also rent or lease RFID printers, plastic card encoders, and other equipment.
Resources