Accounting and Financial Services Information
Accounting and financial services includes various types of services used in business to comply with federal, state and local regulations. Services also involve consultation and planning to improve business performance and other necessary business needs.
Types
Bookkeeping Services
Bookkeeping services (bookkeepers) help businesses manage cash flow transactions including all of the company's purchases, sales, receipts, and payments. Bookkeepers make sure that these transactions are posted to the correct ledger in accordance with accepted financial accounting services and practices. It is essential that bookkeepers maintain accurate records because this information is used to prepare the company's tax returns. Bookkeeping software can help maintain accuracy as well as eliminate much of the paperwork associated with manual bookkeeping practices.
Payroll Services
Payroll services handle all aspects of payroll processing and employee payroll tax filing. Employers submit payroll data to the payroll service provider electronically or over the phone. Payroll service companies then process this data and transfer the appropriate funds from the employer to the employees via check or direct deposit. After the payroll processing is complete, payroll service companies will provide payroll reports to the employer.
Tax Services
Tax services prepare federal, state, and local tax returns for businesses based on the company's cash flow for the given year. Many businesses choose to consult accounting tax service providers for guidance on making tax-efficient business decisions. Additionally, accounting tax services can provide consulting with regard to tax law and compliance.
Audit Services
Accounting audit service providers ensure that their clients' financial information is being managed in compliance with accounting standards and regulations. Both public and private companies often choose to work with auditors to certify that no dishonest behavior such as embezzlement or misuse of funds is going on inside the organization. This practice reassures investors and employees that the company is being managed properly. Audits can be performed by an external auditing firm or by an internal member of the accounting department. However, internal accountants cannot audit any documents with which they were involved in any way. Some companies choose to use external auditing firms to eliminate the bias that is sometimes associated with internal auditors.
Any discrepancies revealed by an accounting audit must be resolved immediately. Some or all of the following items may be reviewed for discrepancies during an accounting audit:
Ledgers
Bank statements
Payroll
Tax information
Internal financial reports
Official published reports
Accounts payable
Accounts receivable
Many accounting firms that offer audit services will also offer attestation, which is the act of bearing witness in a legal setting. A company may need attestation services to prove that appropriate action was taken after encountering a major financial problem within the company.
Financial Planning Services
Financial planning firms help businesses plan for the future. Business owners often consult financial planners to determine the best steps to take in order to reach their monetary goals. The financial planning process involves setting objectives, evaluating resources, and making plans to work towards those objectives.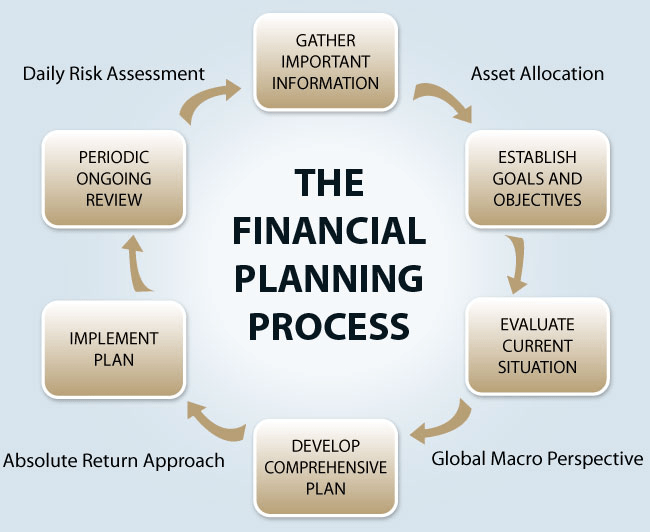 Image Credit: WealthPlanners, Inc.
Banking Services
Banks provide several services for individuals and other businesses. Some common baking services include:
Secure storage of cash and valuables
Checking and savings accounts
Money transfers
Loan services
Foreign exchange services
Investment services
When choosing a bank, think about the kind of service required and look for a bank that can best match that need. It is also wise to make sure the bank choosen is insured by the Federal Deposit Insurance Corporation (FDIC).
Software Consulting Services
Some accounting and financial firms offer training or consulting with regard to accounting and financial software.
Accounting and Financial Standards
The Financial Accounting Standards Board (FASB) establishes standards of financial accounting and reporting in the United States. The U.S. Securities and Exchange Commission recognizes FASB standards, or Generally Accepted Accounting Principles (GAAP), for the preparation of corporate financial reports. Accounting principles for tax purposes in the United States has a set of accounting standards which is separate and distinct from GAAP.
The American Institute of CPAs (AICPA) provides standards for attestation engagements (SSAE) to set guidelines and rules for CPAs that provide attestation services.
Banks are primarily regulated by the Federal Deposit Insurance Corporation (FDIC) and the Federal Reserve Board.
Qualifications
Accountants may specialize in more than one area of expertise; therefore qualified accountants often hold multiple accounting certifications. Some common types of accounting certifications are:
Certified Public Accountant (CPA)
Certified Management Accountant (CMA)
Certified Financial Manager (CFM)
Certified Internal Auditor (CIA)
Certified Fraud Examiner (CFE)
Enrolled Agent (EA)
Certified Government Financial Manager (CGFM)
Certified Financial Planner (CFP)
Service Considerations
Consider the following when selecting an accountant or accounting firm:
What are the accouting service requirements of the organization?
What certification(s) should the accountant have?
What kind of experience does the accountant need to have?

How long has this accountant been in business?
Is the accountant knowledgeable about GAAP?
Is this accountant familiar with the industry in which the customer's business operates?
Is this accountant familiar with the accounting software the customer's company uses?
If looking to solve a particular problem, has this accountant successfully dealt with this kind of problem before?

Does this accountant have references?
Will this accountant attest to his/her services?
How much does this accountant charge for the service(s) required?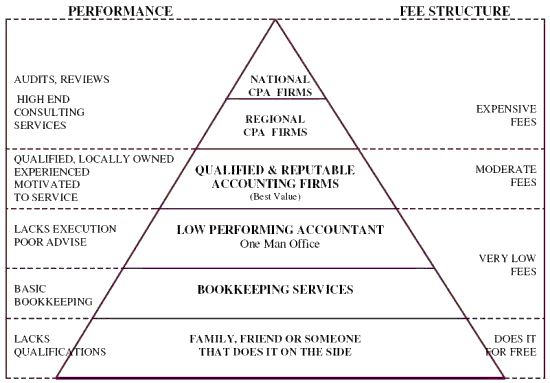 Image Credit: Farrow & Associates
References
Tax Accountant: Job Description and Requirements for Becoming a Tax Accountant
Types of Accounting Certifications