Trade Organizations and Professional Societies Information
Trade organizations, consortia and professional societies develop and provide standards, information, and training to improve and/or promote professionals in a particular industry. They also provide forums and opportunities for members to network, collaborate, and share information.
Trade Organizations
Trade organizations are industry-specific groups of corporations and professionals. The organization works to promote a particular industry by advertising, public relations, and consumer outreach and education.
Standardization
The development of industry standards is one function of trade organizations. Standards are published procedures and specifications. These documents are used to maximize safety, reliability, and compatibility in design and manufacturing.
IHS maintains a list of standards developing organizations.
The Institute of Electrical and Electronics Engineers (IEEE) has a six-stage standards development lifecycle.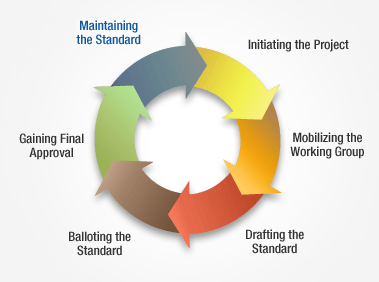 Publications
Trade organizations provide information to both their members and the public.
Websites
Organization overview and objectives
Benefits of membership
Directory of member businesses
Industry news
Newsletters
Print or online industry updates
News and editorial content
Promote industry and specific businesses
Directories
Lists of members and sponsors
Company information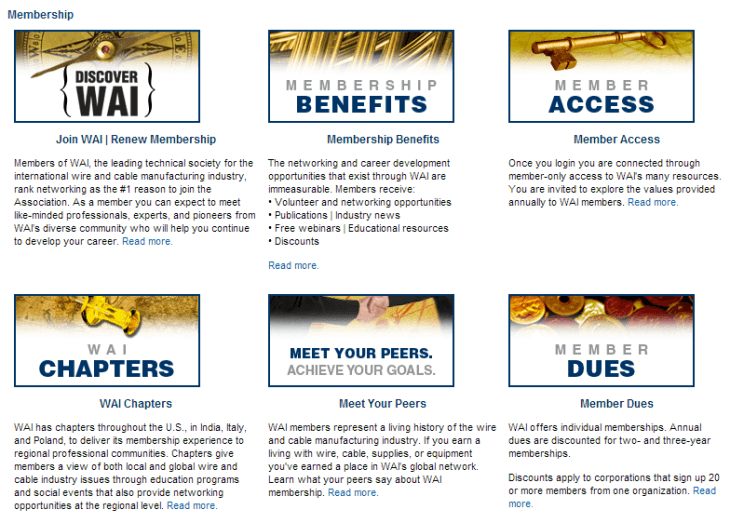 Image credit: WAI Inc. website
Advertising and Public Relations
Trade organizations create advertising campaigns to promote an industry or product rather than promoting specific brands. The American Iron and Steel Institute (AISI), for example, encourages the use of steel rather than saying who to buy it from. Advertising may be in traditional forms such as print or commercials; trade organizations also hold trade shows and events for people to learn more about the industry.
In the event of an accident or tragedy, a trade organization may attempt to reestablish goodwill for the industry as a whole, rather than fixing the image of the specific company involved. A trade organization can use positive public relations to let people know about the safety of a particular product or material.
In the U.S., trade organizations may work to influence public policy in a way that is favorable to the group. Contributions to political parties through Political Action Committees (PACs) and lobbying for the support of advantageous legislation are two examples of political work done by trade organizations.
Professional Societies
Professional societies are comprised of practicing professionals in a particular field. The field may be specific, such as electrical engineering, or it may be general. One of the largest professional engineering societies, The National Society of Professional Engineers (NSPE), has members from all engineering disciplines.
Typically classified as non-profit organizations, professional societies serve to further a profession while considering the interests of its members and the public. The NSPE promotes the professional image of engineers and provides a resource for information on ethical practice, licensure, and worker safety.
Education and Training
Career development is often provided by professional societies. These groups may assist members by helping them set up new practices and providing education and career support. Many professional societies also maintain chapters at colleges and universities, to support student engineers early in their careers.
Video credit: HelixClovers, ASME Student Design Competition 2012 / CC BY-SA 4.0
Professional societies may provide the following education and training opportunities:
Career advancement
Continuing education
Professional certification
Some societies may be synonymous with a particular certification; others may have a focus on networking.
Networking
Professional societies offer members opportunities to expand their professional networks:
Member lists
Conferences and gatherings
Mentoring
Online forums for making and maintaining connections
Advertising and Public Relations
Professional societies may advertise to recruit new members, to recruit individuals to a particular profession, or to establish goodwill within a community or industry.
Other Trade Organizations
Other trade organizations or professional societies serve particular disciplines or populations. These include:
The Institute of Electrical and Electronic Engineers (IEEE)
The Association for Computing Machinery (ACM), which serves computer scientists
The American Institute of Chemical Engineers
The American Society of Civil Engineers
The Association of Energy Engineers
The Illuminating Engineering Society of North American (IESNA), which serves lighting designers and researchers
The Society of Women Engineers
The American Society of Mechanical Engineers
The Institute of Industrial Engineers (IIE)
The International Organization for Standardization (ISO), which provides a clearinghouse of information on standards and practices in all engineering disciplines
Resources
National Society of Professional Engineers
Wikipedia - Professional association