Grease Fittings Information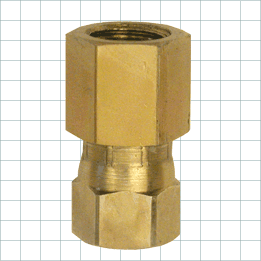 Grease fittings are used to lubricate parts and assemblies. By applying pressure to a ball valve in the fitting, grease flows into the lubricating chamber but cannot flow out. A ball check in the fitting's head prevents the ingress of dirt, dust, and other contaminants. Most grease fittings are designed for use with grease guns, hand-held devices or automated systems that deliver lubrication via manual, pneumatic, or battery power. Grease fittings are available in different lengths and angles, and may turn off automatically to prevent excessive lubrication or damage to seals.
Types
There are many different types of products. Hydraulic fittings are available in threaded, thread-forming, drive, or rivet styles. Grease fittings also include button-head, protruding, bayonet-style, and plug-and-elbow devices. Button-head grease fittings are designed for construction equipment and heavy-duty machinery. Protruding fittings should be used with revolving bearings.
Specifications
Selecting grease fittings requires an analysis of product specifications such as:
overall length
shank length
wrench size
thread type
materials of construction
Products that use English units are measured in inches or fractions of inches. Metric products are specified in millimeters (mm) or centimeters (cm). There are three major thread types for grease fittings: metric, taper or parallel, and unified. M5, M6, M7, M8, and M10 are common metric threads. British standard pipe (BSP), pipe thread fine (PTF), and national pipe thread fine (NPTF) fittings use tapered or parallel threads. Grease fittings that use unified national fine thread (UNF) are also available. Most grease fittings are made of carbon steel, mild steel, stainless steel, or brass. In terms of features, products may be case-hardened or plated with zinc for added durability or corrosion-resistance.
Applications
Grease fittings differ in terms of applications and certifications. Some products are suitable for hand-held grease guns that are actuated by a pistol grip or lever. Others are designed for automated systems on automobile assembly lines.
Standards
In terms of certifications, grease fittings often conform to guidelines from the Society of Automotive Engineers (SAE) and/or the International Standards Organization (ISO).
Related Information
CR4 Community—Vintage Grease Fittings
Image credit: