Pipe and Duct Markers Information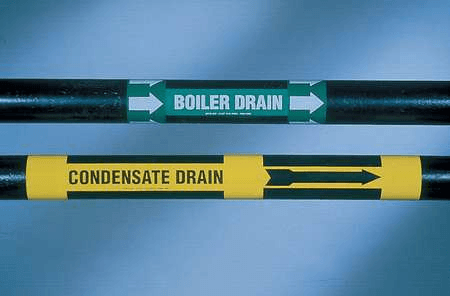 Pipe and Duct markers are adhesive-backed or snap-around markers that are attached to pipes or ducts in order to identify the contents and indicate the direction of flow. Marking pipes helps workers identify pipe contents and understand potential dangers. Marking pipes can also help avoid accidental contamination and eliminate confusion when personnel need to shut down a line. To learn more about the types and standards associated with warning labels, please visit the Safety Labels and Signs Specification Guide on Engineering360.
Adhesive vinyl labels can be used to identify a length of pipe for proper connection and maintenance. An adhesive vinyl label can also provide a mark for a lockout or tag-out device. A clear vinyl label can be applied to dry and dust-free surfaces, but do not adhere well to greasy surfaces. Clear vinyl labels can also be applied via dry or wet methods; however, for best results, the web method is preferred.
When selecting pipe and duct markers, industrial buyers should consider the types, categories, and specifications of the products.
Types
Pipe and duct markers can be differentiated as either adhesive or snap-around types.
Adhesive labels are backed with an adhesive so that they can be stuck to the surface of the pipe.
Snap-around markers can be snapped around a pipe or held in place by use of wire ties or other fasteners.
Categories
The Engineering360 SpecSearch Database allows users to select pipe and duct markers based on a number of different categories. These include:
Chemicals
Drain/condensate
Flow direction
Gases
Sprinkler/fire
.Vacuum
Voltage
Return
Water (hot / cold)
Specifications
Industrial buyers may need to specify markers based on certain specifications such the associated pipe diameter or service temperature.
Pipe diameter is specified to indicate the size of pipe best suited for the marker.
Service temperature is specified to indicate the temperature the pipe marker can withstand without degrading.
Pipe markers are used with copper pipe, PVC pipe, and steel pipe. Specialized pipe markers can resist high temperatures, chemicals, and abrasions. These pipe markers do not require surface preparation and provide 360 degrees of visibility.
Image Credits:
Grainger Industrial Supply, NADCO Tapes & Labels, Inc.