Brushing Machines Information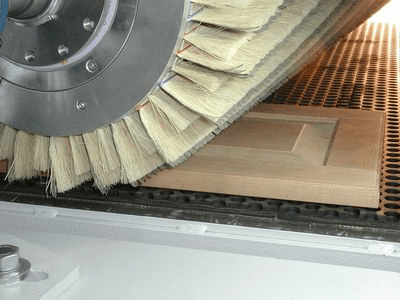 Brushing machines create a uniform workpiece surface finish after undergoing turning, punching, milling, or machining processes. Workpieces include wires, metal discs, pipes, tubes, and sheet metal blanks. Removal of dust or impurities is a secondary application of brushing machines.
Traditionally, gear deburring required heavy duty products like wire brushes. However, new developments in deburring technology led to increasing use of nylon abrasive filament (NAF) brushes. Computer numerical controlled (CNC) machines employ NAF brushes to remove sizable burrs and refine the material surface finish with superior precision, eliminating the need for re-fixturing or secondary deburring.
Brushing machines are employed in polishing, edge radiusing, deburring, and honing applications. They are also used for processing agricultural products. They are effective in cleaning and polishing seeds or grains and removing skins from nuts.
Types
Multiple modern industries utilize brushing machines to support a wide assortment of applications. Standard models include table type, conveyor and center-less units. Select models offer double-sided operation to increase processing speed.
Machines designed for specific applications such as nut and seed processing provide advanced features and additional benefits for reliable performance and ease of operation. In cases of deshelling or dehulling of products such as peanuts and macadamia nuts, the machines gently remove husks or shells with minimal kernel damage. This is accomplished using multiple sets of inline brushes and belt conveyors with motors engineered to reduce vibration and control factors that impact the process. Several models come with a brush height adjustment option to accommodate different types and sizes of nuts.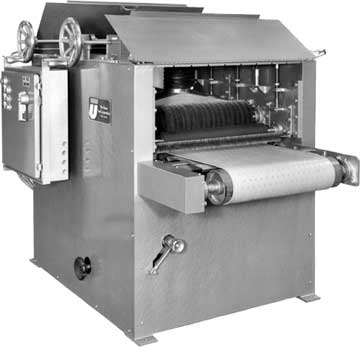 The machines are integrated with an advanced air circulation system, which allows for efficient removal of dust or debris from the brushing area once the skins or shells have been removed. Particular models feature viewing windows to monitor the brushing process and make necessary adjustments if problems occur.
Precision brushing machines with long-segment, height-adjustable brushes are widely used to fabricate metals and pressed parts. These machines deliver precision finishing difficult to attain using conventional models without inclining burrs or creating secondary burrs in the process. Detachable brushes offer a reset functionality and allow for even brush wear, which is essential to achieving consistent finishing quality. The dry finish method is effective in handling oily products.
Brushing machines designed for PCB industries consist of models that target scrubbing and cleaning operations using brushing attachments fixed at the top and bottom of the machine. This process prepares metal surfaces for successful coating adhesion. Machines designed for polishing operations offer several brush grit combinations and enable various surface treatments.
Operation
Compared to bonded or coated abrasive products, the filamentary nature of NAF brushes minimizes surface damage. The nylon abrasive filament brushes are less aggressive and are relevant for finishing and deburring applications as well as edge radiusing.
When an NAF brush contacts the surface during deburring, it generates a high cutting force due to the limited contact area. This force diminishes as the filing action of the brush removes the burr and increases the contact area. This also limits the aggressive force to the edges, allowing the machines to perform their function without changing dimensions of the parts. The nylon abrasive filament brushes achieve deburring and finishing of flat parts such as engine blocks or cylinder heads. The brush filament generates a low cutting pressure as it moves away from the edge and towards a more flat surface. This effect facilitates the process of refining the surface finish necessary for polishing parts with complex geometries.
NAF brushes are also efficient in producing precise edge radii. Creation of a specific edge radius in addition to deburring or polishing is essential in particular industries. The abrasive brushes form a true radius by blending corners into the sides.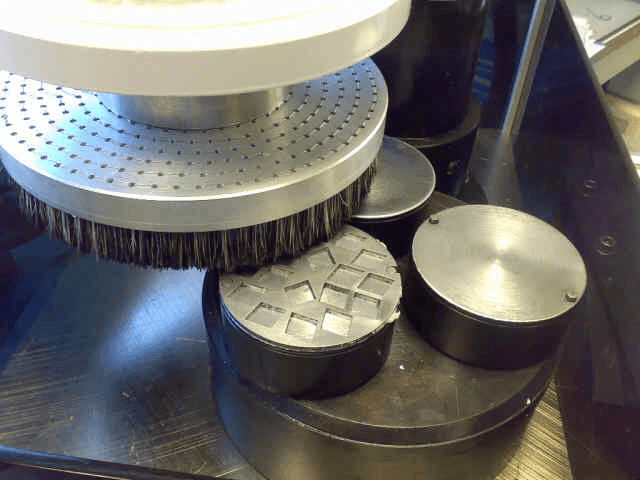 NAF brushes require direct perpendicular access to the area subjected to deburring or finishing.
A successful outcome is impaired if access to the burred edge is restricted or if the filaments are deflected away from the targeted area.
When integrated with in-line systems, NAF brushes minimize time to completion and eliminate the need to acquire separate deburring units. These single-point systems perform machining and deburring of the parts simultaneously using the same equipment.
Robotic systems integrated into production lines present an alternative approach. A complete cycle performed by a robot covers handling, deburring, and returning the part back to the conveyor.
An additional method for employing deburring is allocating dedicated equipment to handle individual parts or sets of parts. Devoted machines allow for a reduced cycle time and increased throughput levels, making them ideal for high-production environments.
Features
Brushing machines contain a multitude of features supporting a vast range of applications. These features include:
Adjustable brush abrasion
Wet operation
Solid metal body
Varying brush grit combinations
Adjustable conveyor speed
Horizontal axis rotation
Modular construction
Hardened billy rolls
High-speed brushing
Integrated brushing unit pull-off mechanism
Dynamic wheel balancing (eliminates vibration)
Adjustable stroke oscillation
Double-sided operation
Turbo blower
Heat-resistant brushes
Individual brushing unit pull-off mechanism
Applications
Use of brushing machines extends to a broad range of applications for cleaning, honing, polishing, or removing impurities from a workpiece or surface. These applications include:
Impurity removal
Brushing
Burr removal (deburring)
Radiusing
Polishing
Fin removal
Smoothing
Rounding
Cleaning
Descaling
Derusting
Surface processing of tubes, pipes, metal discs, and plates
References
Image credits:
TEKNIKEM | The Union Tool Corporation | QuanteQ Solutions Ltd.