Tool Grinders and Sharpeners Information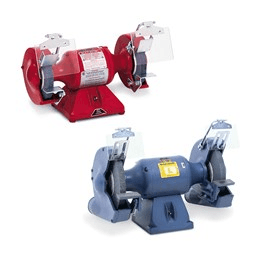 Tool grinders and sharpening machines are versatile resurfacing machines used for grinding, honing, finishing, sharpening, and refinishing of cutting tools. They are used to recondition and manufacture cutting and incising tools to full design specifications and help maintain a usable profile. They may also be used to manufacture precision machine components for aerospace, medical, automotive, and other industries.
Operation

Tool grinders and sharpening machines include manually operated as well as automated computer numerical control (CNC) machines.
Manually operated tool grinders required highly skilled operators. Understanding of the relationship between the grinding wheel and the metal being cut is required as well as knowledge of tool geometry. They typically include fixtures to mount cutting tools and articulate in order to perform cylindrical grinding, surface grinding, or grinding of complex angles.
CNC tool grinders are the modern replacement for highly skilled laborers. They include 5-axis machines with a host of features that enhance productivity. Automated measurements such as touch-probes or laser technology allow for unmanned operation. Tolerances less than 5 micrometers (0.0002") are consistently reproduced with careful process configuration and tool support.
Types
Tool cutting and sharpening involves a process that takes a very light cut of material away using abrasive media such as a grinding wheel. Grinding wheels with different grit sizes achieve rougher or finer surfaces dependent on the needs of the application. Tool grinders and sharpening machines are dedicated to machining the hard materials necessary to produce cutting tools and include various types of machines for general or specific applications.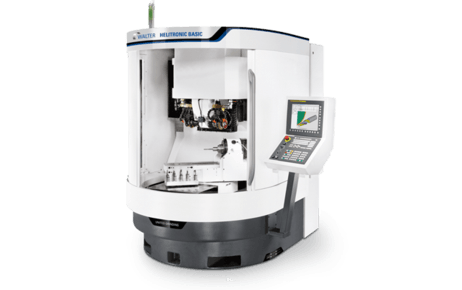 General purpose tool and cutter grinders are manual grinders or CNC machine tools with up to 5-axis of freedom. They can be used to recondition or produce end mills, drills, step tools, and other cutting tool. Software advances enable many industries to use CNC tool and cutter grinders. CNC technology also allows complex parts to be designed using CAD/CAM software.
Radius Grinders are used for grinding complex tool shapes. Similar to CNC grinders, they can be used for other jobs such as grinding spherical surfaces. The radius grinder consists of three parts: The grinder head, work table, and holding fixture. The grinder head has vertical movement, movement into the workpiece, and tilt. The work table is a T-slotted X-axis table mounted on top of a radial fixture. The holding fixture is anything that can mount on a slotted table, typically a collet or chuck fixture that indexes and has a separate Y movement.
Drill grinders and drill point grinders are application-specific grinders used exclusively to sharpen drill bit points and cutting edges. They provide the feed and fixturing to sharpen a tool's cutting surface accurately. Drill grinders can handle two flute, three flute, and four flute drill bits and can also accommodate variable point angles.
Punch and Die type grinder/sharpeners allow quick and easy sharpening of punches and dies. Punch and die grinders have been specifically designed for ether round or non-round grinding applications and are available as table-mounted, manually-driven machines or fully automated CNC controlled machines.
Cutting Tools
Tool grinders and sharpening machines are used to resurface or recondition a wide variety of cutting tools including:
Boring Tools

Broaches

Counterbores

Countersinks

Cutting Tool Inserts

Dies

Drill Bits

Milling Cutters

Punches

Reamers

Taps

Thread Chasers

Turning Tools
Standards
ANSI B11.9 --Safety Requirements for Grinding Machines
GOST 1584 -- Universal tool-grinding machines. Standards of accuracy
ISO 3002-1 -- Basic Quantities in Cutting and Grinding - Part 1: Geometry of the Active Part of Cutting Tools - General Terms, Reference Systems, Tool and Working Angles, Chip Breakers
Resources
Image Credits:
Baldor Electric Company | United Grinding Technologies Inc.