Valve Repair Machines Information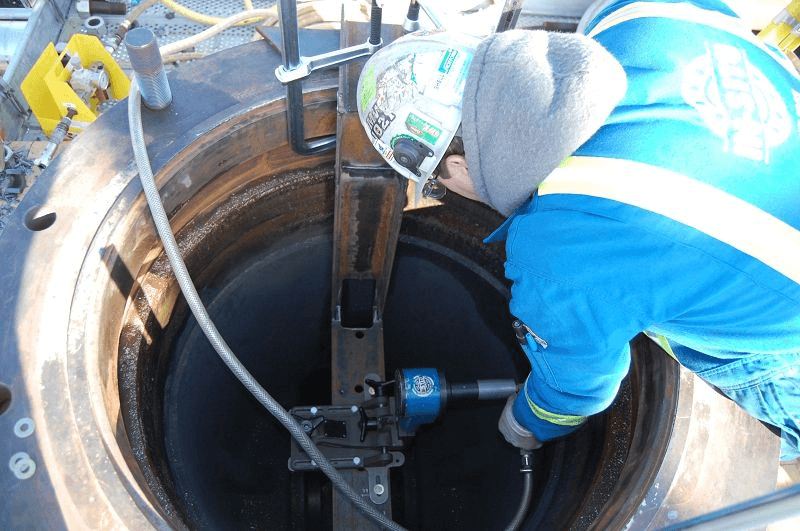 Valve repair machines are used for servicing valves. They repair numerous imperfections caused by corrosion or wear and tear. The devices perform tasks such as valve seat repair, machining, and precision finishing of sealing faces as well as valve grinding and lapping operations. The machines cover all types of components including gate, parallel slide, check, globe, and safety valves.
This technology is employed in service trucks as well as repair shops. It is installed in combination with inspection sets for examining valve parts that are hard to reach. Inspection sets include mirrors, holding tools, and lights as well as digital camera versions featuring flexible camera fixtures. Some mechanisms are integrated with brushing sets powered by air driven hand tools to remove rust and seal residues.
These tools support any industry employing valve equipment, including applications such as mining, refineries, shipyards, sugar plants, breweries, and boiler houses, to name a few.
Types
Valve repair machines offer an extensive selection of types and configurations. Most models perform unique repair functions for specific equipment, including:
Grinding sealing faces
Grinding parts
Lapping sealing faces
Lapping seats
Machining seats
Re-facing valve bodyflanges
Bolt torqueing
Removing corrosion and debris
Flattening and smoothing surfaces
Boring diameters
Types of valve repair tools include:
Globe/Safety/Control valve repair: Multi-functional devices of this category perform a variety of procedures. The tasks include in-line valve throat repairing, inside diameter boring, and outside diameter turning, applying weld build-up and cutting grooves and recesses.
Safety valve repair: Such instruments allow boring and facing of safety valves.
Globe valve repair: These tools service sizable globe valves such as Main Steam Isolation Valves (MSIV). Most versions execute both single-point machining as well as grinding of parts such as pressure-seal bores, seats, and guide ribs. Grinding disks are subject to change during operation allowing adjustments to grinding pressure. Common construction features sealed lubrication and pre-loaded bearings for extended life and minimal maintenance.
Gate valve grinding and lapping: This equipment covers a diverse set of configurations. It maintains sealing surfaces of gate valves, valve flanges, as well as gate valve wedges and disks. They resurface seat areas to match or surpass manufacturer's specifications. Other processes are grinding and lapping of gate and check valve seats. Select models come with tilting adapters to accommodate grinding pressure adjustments. They rely on either electric or pneumatic drives or both.
Globe/Safety valve grinding and lapping: The machines are designed for grinding and lapping specific categories of valves such as flat or conical seat valves. They have the ability to switch disks for modifying grinding pressure levels. The devices are guided by hand up to a certain working range, with a mounting device for valves of substantial size. Another supported component is valves with tapered seats. Crosshatched grinding and lapping procedures achieve the desired seat flatness.
Stationary Gate/Globe valve grinding and lapping: Sold as stand-alone units, such instruments offer single point machining in addition to the grinding and lapping capability. They are designed for applications with restricted seat and casing clearance and possess higher cutting speeds to improve material removal rates. These tools repair flat or tapered surfaces found in turbine bypass valves, control valves, safety valves and globe valves, flanges, and pumps.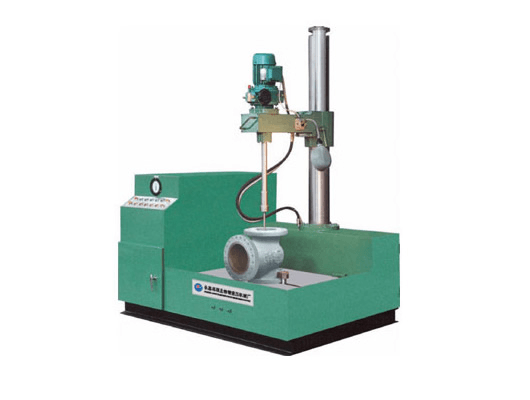 Valve boring and facing: The boring and facing instruments perform precision repairs on valve seats, pressure seal locations, bores, flanges, compressor casings, and pump casings. They function both automatically and with adjustable manual axial feed. Automatic and manual radial feeds are available as well.
Gate valve grinding table: This construction is used for grinding the surface of valve disks, gate valve wedges, and other machine elements. The table plate speeds are fully adjustable.
Slide valve grinding and lapping: The primary function of the equipment is to level sealing surfaces and eliminate scaling, rust, and conglutinations. This category features telescopic or double eccentric machine arms. Telescopic machine arms enable operation in narrow conditions.
Production lapping valve repair: The devices perform grinding and lapping of sealing surfaces. Some instruments allow for reverse operation and are well suited for the general overhaul of fittings.
Other kinds of valves subject to repair include:
Safety-Relief
Boiler Safety
Pressure Relief
Isolation
Steam Traps
Vacuum Relief
Wedge Gate
Ball Control
Check & Stop Check
Throttle
Swing Check
Main Steam Isolation
Applications
Valve repair equipment sustains the efficient operation of valves of all classes in a broad range of applications, including:
Boiler houses
Pipelines
Mining
Nuclear power plants
Incinerators
Refineries
Chemicals
Ship turbines
Shipyards
Paper
Sugar plants
Breweries
Oil and Gas
Pharmaceutical
Construction
HVAC
Food & Beverage
Hospitals
Water and Waste
Selection Criteria
Valve repair machines cover a myriad of types and processes performed. Some machines are specialized for individual units and manufacturers while others provide a more extensive servicing capability. When choosing a valve repair machine, check manufacturer's specifications to make sure they meet the desired functionality for the intended use.
Standards
Multiple groups set the standards applicable to valve repair machines, including:
ASME (American Society of Mechanical Engineers)
Association of Safety Valve Calibrators
Defense Manufacturers and Supplier Association

National Board Inspection Codes Section I or Section VIII
Image Credits:
Institumachining | Valve Tests |