Shower and Eye Washing Stations Information
Image Credit: Global Equipment Company
Shower and eye washing stations are used for hand washing and emergency eye and body washing in laboratory, industrial, or factory environments. The systems and stations are required when there is a potential for the body or eyes to be exposed to corrosives, strong irritants, or toxic chemicals. In these instances, shower and eye washing systems and stations must be available and accessible to workers.
Selection Criteria
The proper selection of shower and eye washing systems and stations is based on the properties of the chemicals being used and the tasks being undertaken. In short, the type of equipment should match the potential hazards.
An emergency eye wash station is designed to flush only the eye and face area. Boric acid eye wash, an antiseptic commonly used in commercial "artificial tears" and eyewash products, may be found in an emergency eye wash station. There are three major types of emergency wash stations:

Eye wash bowls

Drench hoses at sinks

Plastic eye wash bottles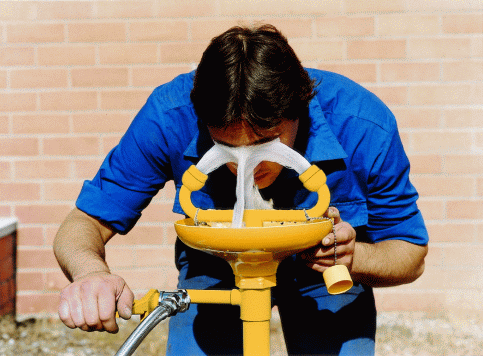 Image Credit: emergency-shower.org
An emergency shower, also called a drench or deluge shower, is used to flush the worker's entire head and body. An emergency shower should never be used to flush a worker's eyes as the higher rates of pressure can cause damage to the eye.

A solenoid shower system uses a solenoid valve to control the water flow in conjunction with a timer so that the flushing occurs for the appropriate amount of time.

Hand wash stations are critical for hand cleansing to prevent the spread of bacterial infections or to remove contaminants after gloves and protective equipment are removed. A hand sanitizing system can range from a one station to a four-station sink and often includes hands-free foot pump operations, a heater to keep water temperature warm, or built-in lifting handles. A portable hand washing station may also be used; however, these units have limited amounts of water and must be continuously maintained to be sure the unit is available at all times.
Video Credit: saftyissimple/ CC BY 3.0
Product Specifications
Shower and eye wash stations have few product specifications to consider when selecting a product.
Flush duration- The length of time the washer can continuously dispense.

Number of dispensers- The number of people the device can simultaneously serve.
Mounting Options
Showers and eye washing stations can be mounted in a variety of ways to best fit into the lab or environment it will be used in. The mounting option should be selected based on room available and ease of access required.
Bottle Kit- Bottle kits are bottles filled with a solution to cleanse the eyes. They are hand held and dispense as necessary.

Floor Mount- Device is mounted or placed on the floor.

Wall Mount- Device is mounted directly to the wall.

Ceiling Mount- Device is mounted directly to the ceiling.

Faucet Mount- Device is mounted as part of a faucet fixture.

Hose Mount- Device is mounted at the end of a hose.

Portable- Device can be moved around the lab. These are often self-contained and include their own water.
Standards
The U.S. Occupational Safety and Health Administration (OSHA) publishes regulations that apply to hand and eye washing systems and stations. In addition, the American National Standards Institute (ANSI) developed the ANSI standard Z358.1-1990, "Emergency Eye Wash and Shower Equipment", to help users select and install hand and eye washing systems and stations in order to meet OSHA requirements.