Hones and Honing Tools Information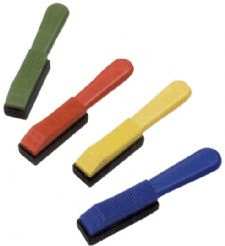 Hones and honing tools are abrasive products used to refine the finish of internal bores and external surfaces. There are three basic types: flexible hones, hand hones, and honing sticks or tools.
Types
Flexible hones have abrasive beads bonded to the ends of bristles. Like other hones and honing tools, they are used to smooth or refine the finish of internal or external surfaces.
Hand hones, or diamond hones, are designed for the offhand honing of ground cutting-tool edges.
Honing sticks, or honing tools, are used for finishing internal bores. Internal grinding uses smaller-diameter wheels or abrasive products for grinding or finishing the surface of a part's inner diameter (ID).
Specifications
Product specifications for hones and honing tools include width, rotary speed, and shank or bore diameter. Hone width is measured in English units such as inches (in), feet (ft), and yards (yd); or in metric units such as millimeters (mm), centimeters (cm), and meters (m). Typically, the rotary speed is expressed as a maximum value. The bore is used to mount or hold the abrasive product on a spindle or mandrel. Bore diameter is the inner diameter of the center mount. Shank diameter is the diameter of the integral shank, pin, shaft, or mandrel on mounted points or wheels. Parameters for hones and honing tools also include measurements such as outer diameter (OD).
Hones and honing tools are available in various mounting styles. Some products are suitable for hand-held use. Others have a central hole or bore for mandrel, arbor, spindle, or shaft mounting. Hones and honing tools that are mounted onto an integral mandrel, pin, arbor or shaft are also available.
Features
Abrasive grain type and grit size are important considerations when selecting hones and honing tools. Choices for abrasive grain include:
aluminum oxide
boron carbide
ceramic
emery or crocus
garnet
silicon carbide
cubic boron nitride (CBM)
synthetic diamond
tungsten carbide
zirconia
Grit size applies to abrasive products with abrasive grains held in a matrix or bonded to a surface. Examples include coated abrasives, dressing sticks, superabrasives, vitrified grinding wheels, and honing stones or grit dressers.
Standards
Grit sizes for hones and honing tools are based on proprietary grading systems or standards such as ANSI, FEPA, or JIS. The grading system or standard defines a grit size through specified upper and lower limits at certain points in the size distribution.
Related Information
CR4 Community—Diamond Tools for Surface Finishing and Deburring
CR4 Community—Miniature Stainless Steel Brush Kits for Cross-Hole Deburring
CR4 Community—How Flexible Honing Supports Engine Performance
Image credit: