Cementing Units (oil and gas) Information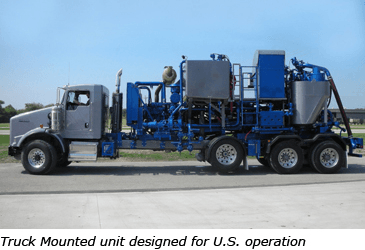 Cementing units are outfitted with pumps, drives, and mixers to provide on-site concrete mixing and injection, often to oil and gas drilling operations. This prevents water penetrating into a well, seals the annulus after installing a casing string, and also plugs a well. Components of a cementing unit include:
Mounting platform: trailer-mounted and truck-mounted cementing units are mobile and quite common in oils fields. Cementing units are also occasionally mounted on skids, making them preferable for in-situ applications, such as off-shore drilling.
Motor, transmission, and pumps: a heavy-duty petrol or electric engine linked to a transmission provides mechanical energy to mud pumps and water pumps, as well as the agitator.
Mixing system: water and slurry reservoirs converge in the mixing tank before being dispensed through unit outlets and hoses via pumps. A cleaning system removes slurry residue.
Control system: the operator has panel-mounted controls to regulate flow rate, slurry density, and other unit parameters. Many units include gauges for operation monitoring.
The application determines which type of cementing unit is preferable. A modular design is favorable for oil rigs, as it must meet size, safety, and power constraints.
Image credit: NOV