Artificial Lift Equipment Information
Artificial lifting equipment refers to the devices needed to increase the flow rate of a production well. This is needed in instances where reservoir pressure is low or nonexistant to increase the flow rate of water or crude oil.
Several types of artifical lift systems exist.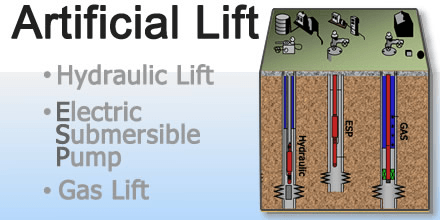 Gas lift systems retrieve well fluids by injecting a gas into the fluid stream, which mixes with reservoir fluids, reduces fluid density, and lowers the bottom hole pressure (BHP) to allow fluids to flow more readily to through the wellbore.
Electric submersible pumps (ESPs) consist of a downhole pump, electric motor, separator, electric power cable, and surface control panel. Utilizing centrifugal force, they pump fluids to the surface. ESPs are versatile pumping solutions that serve a wide variety of applications.
Progressing cavity pumps (PCPs) utilize a pump that is driven by hydraulics, an electric motor, or by a rod string. This type of positive displacement pump has been used extensively in fluid transfer systems and is integrated in an artificial lift solution when dealing with high-viscosity wells, high-sand-cut wells, or low-productivity wells.
Hydraulic pumping systems transmit hydraulic power to a subsurface pumping unit. Several types of pumps may be deployed, including reciprocating piston pumps, jet pumps, or a hydraulically driven turbine.
Rod pumping systems, inclusive of beam pumping units, are mechanical lifts that incorporate an insert or tubing pump. They lift reservoir fluids through production tubing to the surface wellhead. The reciprocating action of a rod string is driven by a beam pumping unit or other mechanical means.
Image credit: