Wheel and Track Drives Information
Wheel and track drives unify a gearbox, motor, and braking mechanism into a compact assembly which is placed within an individual wheel or into a drive sprocket for tracked vehicles. This eliminates the need for a drivetrain to transmit power from a central engine to the vehicle's rolling elements. The planetary gearboxes have two, three or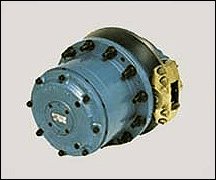 more planetary stages. They are available with a number of different hydraulic or electric motor variants.
The motor for planetary wheel drives is typically either electrically or hydraulically powered. Hydraulic wheel drives are compatible with most industrial hydraulic systems. They are common for self-propelled machinery and off-road applications. Manufacturers will include a disc brake or a drum brake, as well as a parking brake. A manual declutch system is typically also provided that allows disengagement from the gear unit to the motor for emergency towing.
Planetary track drives need to transmit much more torque than planetary wheel drives. As such their gearboxes are characterized by high strength materials and a robust capacity for radial and axial loads. Hydraulic motors and disc brakes are most common.
Planetary gearboxes in mobile applications are used as propel drives in tracked vehicles or as wheel drives in wheeled vehicles. They can also be used as swing drives for rotary motion and as winch drives for lifting and lowering loads. Applications for wheel and track drives include heavy machinery like earthmovers, cranes and agriculture & transport vehicles. Municipal vehicles like road sweepers, garbage collectors as well as material handling vehicles such as fork lift trucks and yard vehicles also use wheel drives for propulsion.
Features
High radial and axial load capacity
High torque capacity
Reliable oil seal protection
Universal and SAE input direct mounting flanges
Designed for direct mounting into wheel rims.
Wheel and track drives are available in a wide range of gear ratios that allow the power system to operate at optimum efficiency. The versatility of planetary wheel drives is assured by a wide availability of braking systems and do to the wide ratio ranges available within the gearboxes, there is a solution for almost any type of transmission or application.
Image credit: