From
Motors and Drives
AC Induction Motor
The main parts in an AC induction motor is the rotor (rotating element) and the stator (stationary element that generates the magnetic flux). The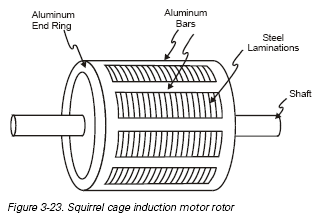 The squirrel cage motor is the simplest to manufacture and the easiest to maintain. The operation of the squirrel cage motor is simple. The threephase current produces a rotating magnetic field in the stator. This rotating magnetic field causes a magnetic field to be set up in the rotor also. The attraction and repulsion between these two magnetic fields causes the rotor to turn. This concept can be seen in Figures 3-24 and 3-25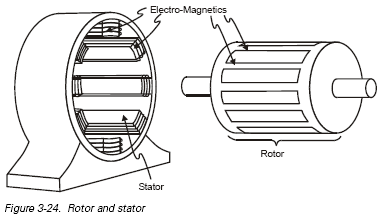 The squirrel cage motor is a constant-speed motor with either a normal or high starting torque. These characteristics fulfill the requirements of the majority of industrial applications.
The concept of the rotating magnetic field is shown in Figure 3-26. This figure shows the relationship of the three-phases versus pole magnetic fields. Each magnetic pole pair is wound in such a way that allows the sta-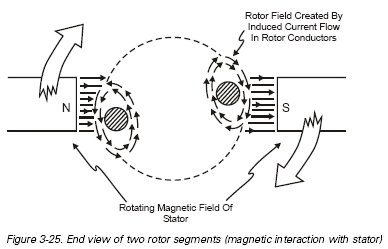 tor magnetic field to "rotate." The stator of the motor consists of groups of coils wound on a core, which are enclosed by a frame. The simple two-pole stator shown in Figure 3-26 has...
More >>
Show More...
© 2003 ISA
---
Products & Services
---
Topics of Interest