From
Motors and Drives
Protection and Ratings
Motor Protection
The typical method of starting a three-phase induction motor is by connecting the motor directly across the power line. Line starting a motor is done with a three-phase contactor. To adequately protect the motor from prolonged overload conditions, motor overloads are installed, typically in the same enclosure as the three-phase contactor. These overloads (OLs) operate as heater elements-heating to the point of opening the circuit, and mechanically disconnecting the circuit (Figure 3-31).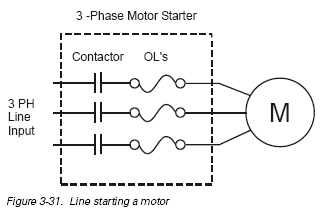 Overloads can be purchased with a specific time designed into the element. Classes 10, 20, and 30 are the usual ratings for industrial use. A class 10 overload indicates that the overload will allow 600% inrush current for 10 s before opening the circuit. Class 20 overloads would allow 600% inrush current for 20 s, and a class 30 would allow 30 s of operation. The current draw from a typical induction motor, as well as the torque produced can be seen in Figure 3-32.
Line starting an induction motor, as shown in Figure 3-32, would allow the motor to develop rated torque, as soon as the motor starter button is pressed. This is because across the line, the motor has the benefit...
More >>
Show More...
© 2003 ISA
---
Products & Services
---
Topics of Interest