From
Measurement and Control Basics Fourth Edition
A pyrometer is any temperature-measuring device that includes a sensor
and a readout. However, in this section we will discuss only radiationtype
pyrometers. A radiation pyrometer is a noncontact temperature
sensor that infers the temperature of an object by detecting its naturally
emitted thermal radiation. An optical system collects the visible and infrared
energy from an object and focuses it on a detector, as shown in
Figure 7-21. The detector converts the collected energy into an electrical
signal to drive a temperature display or control unit.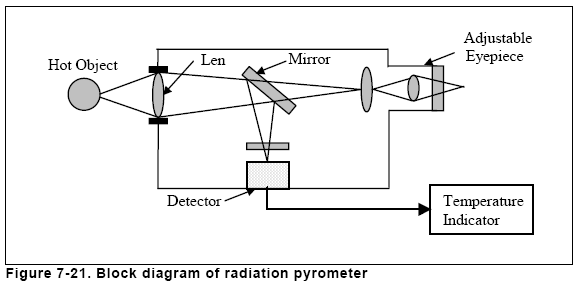 The detector receives the photon energy from the optical system and converts
it into an electrical signal. Two types of detectors are used: thermal
(thermopile) and photon (photomultiplier tubes). Photon detectors are
much faster than the thermopile type. This enables you to use the photon
type for measuring the temperature of small objects moving at high speed.

Radiation pyrometers are used to measure the temperature of very hot
objects without being in contact with them. Molten glass and molten metals
during smelting and forming operations are typical of the objects they
measure. In selecting the correct radiation pyrometer for an application
you must consider several factors. In either narrow or wide fields of view,...
More >>
Show More...
© 2007 ISA
---
Products & Services
---
Topics of Interest