From
Control Valves
Valve Features to Reduce Noise
Silencers and Diffusers
A diffuser is a pressure reducing device that is installed downstream from a control valve. The total pressure drop needed for flow control of a flow control loop is divided between the valve and diffuser. This enables the valve to operate at a lower pressure ratio (?p/p1) and greatly reduce the control valve noise level generated by steam, gas or vapor flow. A properly selected diffuser valve combination can result in up to a 40 dBA noise reduction.
The diffuser or silencer differs from other types of path treatments because it does actually absorb some of the noise energy. For control valve applications operating at high pressure ratios (?p/p1 greater than 0.8), a series approach, which splits the total pressure drop between the control valve and a fixed restriction such as a diffuser, downstream from the valve, can effectively minimize the noise.
The diffuser must be designed for each unique installation so that the noise levels generated by the valve and diffuser are equal. Valve manufacturers that offer diffusers will design for the conditions. Diffuser and silencer design are covered in Chapter 8.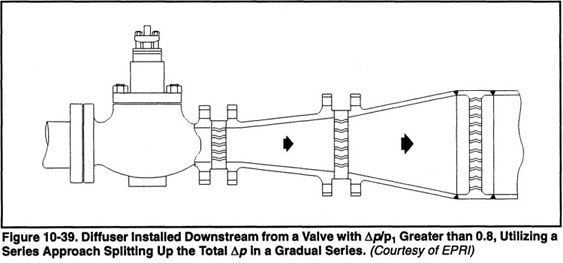 Vent Diffusers
Control applications venting to...
More >>
Show More...
© 1998 Instrument Society of America
---
Products & Services
---
Topics of Interest