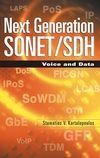 PREFACE

In four previous books, we introduced the SONET and SDH
communications protocol technologies and Wavelength Division
Multiplexing (WDM) as the new technology of this millennium.
SONET has proven its robustness and fast switching for protection.
The physical layer of SONET has served as the starting point for single-
lightpath technologies, and WDM is a technology that multiplexes
many lightpaths onto a single fiber. Although WDM was initially a
physical layer technology for transporting a large aggregate bandwidth
and reducing the interconnecting fibers to one, recently it moved to the switching layer.
WDM has been so successful that it has become a "victim of its own success." WDM
technology is being considered by all communications camps—SONET over DWDM,
ATM over WDM, IP over WDM, GbE over WDM, and so on. However, if all these
X over WDM technologies materialize, then it is difficult to imagine an efficient network
with so many overlays and the impact on network management, protection, and service
availability.

As a consequence, a network is needed that is based on a foundation with a common
procedure that encompasses the advantages of many technologies and protocols,
yet removes their disadvantages. Such a network could then interface with all
traffic types (GbE, TDM, IP, and so on). Imagine also that if SONET/SDH could be
simplified and enhanced, then such a procedure would be in harmony with the new
SONET/SDH, and, moreover, the new SONET/SDH would be in harmony with
DWDM.
If all this sounds like a mission impossible, then the skeptic will be disappointed
because such procedures have been developed and standardized. It is the objective
of this book to introduce the next generation SONET/SDH and to also provide a description
of the next generation optical network. Thus, based on technological advancements,
new optical systems are being designed and new optical networks designed.
These new systems and networks offer more bandwidth at less cost, and it is
expected that bandwidth will become a commodity item.

This is the fifth book in the series of optical networking. Understanding SONET/
SDH and ATM: Communications Networks for the Next Millennium (IEEE Press,
1999) provides a comprehensive overview of SONET, SDH, and ATM. Introduction
to DWDM Technology: Data in a Rainbow (IEEE Press, 2000) provides a high-level
introduction to DWDM technology and how it works in DWDM networks. Fault
Detectability in DWDM: Towards Signal Quality and System Robustness (IEEE
Press, 2001) provides a treatise in fault mechanisms, how they correlate, and how
they are detected. DWDM: Networks, Components and Technology (IEEE Press/
Wiley) provides an in depth description of optical networks, systems and components.

This new book provides a comprehensive treatment of the next generation
SONET/SDH over DWDM. It explains in simple terms many new protocols such as
the Generic Framing Procedure, and other related protocols that aim to simplify the
next generation optical network, increase its efficiency, and decrease its cost. However,
as each day has a "tomorrow," so each network generation has a "next" generation.
Thus, the fundamental question is "How long will the next generation network
resist obsolescence"? This truly depends how fast technology will advance, if
a new disruptive technology will emerge, and how soon a new appetite for more
bandwidth and new services will emerge. Clearly, if the "next generation" optical
network is defined with enough flexibility and resiliency, then the probability that it
will last for a long time is high.

It is my hope that this book will excite and stimulate the interest of the reader in
the exciting Next Generation Optical Network (NGON) and will aid in the development
of robust, efficient, and cost-effective systems and networks.

ACKNOWLEDGMENTS

I thank my wife, Anita, son, William, and daughter, Stephanie for consistent patience
and encouragement. I also thank my publishers and their staff for cooperation,
enthusiasm, and project management. To the anonymous reviewers for useful
comments and constructive criticism; and all those who worked diligently on all
phases of the production of this book.

STAMATIOS V. KARTALOPOULOS, PH.D.