From
High Voltage Engineering and Testing, 2nd Edition
Appendix 5.1:

: Conductor Sag and Tension Calculations

Referring to the diagram in Section 5.3 the true length of the conductor from C to B may be calculated from:

Hence the complete conductor length S from A to B is obtained by substituting
and the conductor sag is: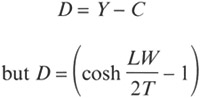 and cosh x can be expanded:
The equation for sag, D, can also be expanded as follows:
Typically, a 400 m span and a tension of 2500 kg with a conductor of mass 1.74 kg/m will have a sag of:
The second term of the calculation is only 0.15% of the first term and, therefore, to a first approximation it is usual to ignore it. Accordingly, the equation:
is used to calculate sags and tensions for level spans when the sag is less than about 10% of the span. This equation describes the shape of a parabola.
For use in the case of supports on sloping ground, i.e. with supports at A and B in the following diagram, the parabolic equation for sag and tension is adapted as follows:
where, as shown in Figure 5.15. X is the distance from the lower support B.
Figure 5.15:

Parabola for line conductor supported at unequal heights.
It should be noted that the parabola follows the same curve from A to B as for a parabola with level supports fixed at A and C. The above equation is sufficiently accurate for determining sags and tensions of slack spans from the terminal...
Copyright The Institution of Electrical Engineers 2001 under license agreement with Books24x7
---
Products & Services
---
Topics of Interest