From
Programming of CNC Machines, Third Edition
CUTTER COMPENSATION (G40, G41, G42)
The use of cutter compensation allows the programmer to use the part geometry exactly as from the print for programmed coordinates. Without using compensation, the programmer must always know the cutter size and offset the programmed coordinates for the geometry by the amount of the radius. In this scenario, if a different size cutter is used the part will not be machined correctly. An added advantage for using cutter compensation is the ability to use any size cutter as long as the offset amount is input accurately into the offset register. It is also very effectively used for fine-tuning of dimensional results by minor adjustments to the amount in the offset register.
G40 = Cutter Compensation Cancel

G41 = Cutter Compensation Left

G42 = Cutter Compensation Right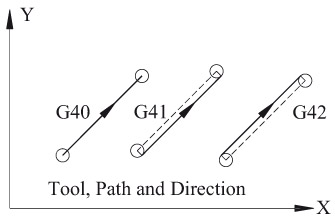 Figure 30:

Cutter Compensation
Cutter Compensation Cancellation (G40)
Function G40 is used to cancel cutter radius compensation initiated by G41 or G42. It should be programmed after the cut using the compensation is completed by moving away from the finished part in a linear (G01) or rapid traverse (G00) move by at least the radius of the tool. Care should be taken here because if the cancellation is on a line without movement, the cutter will move unpredictably in the opposite direction and may damage the part.
Cutter Radius Compensation Left and Right (G41 and G42)
Functions G41 and G42 offset the programmed tool position to the left (G41) or right (G42) respectively, by the value of the...
Copyright Industrial Press Inc. 2007 under license agreement with Books24x7
---
Products & Services
---
Topics of Interest