From
Project Manager's Portable Handbook, Second Edition
7.4

PROJECT MONITORING, EVALUATION, AND CONTROL
7.4.1

Introduction

In this section, information will be provided concerning how project performance can be monitored, evaluated, and controlled. Control is the process of maintaining oversight over the use of the resources on the project to determine how well the actual project results are being accomplished to meet planned project cost, schedule, and technical performance objectives. There are four key elements in a control system as depicted in Fig. 7.4.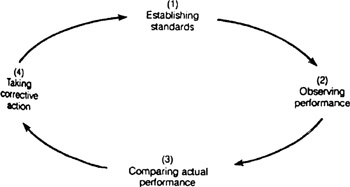 ( Source: David I. Cleland, Project Management: Strategic Design and Implementation, 3rd ed. (New York, NY: McGraw-Hill, 1999), p. 325.)
Figure 7.4:

The project control system.
In order to properly assess project progress, several conditions and understandings are required. These are:
Team members must understand and be committed to the importance of the process of project monitoring, evaluation, and control.

Information derived from the Work Breakdown Structure is required to measure project progress.

The work package is the basic project unit around which progress on the project can be measured and evaluated.

Information used for project control purposes must be relevant, timely, and amenable to the plotting of trends in the use of project resources.

Measurement of project results must start with an evaluation of the status of all of the work packages on the project.

Information collected and compiled concerning the status of the project must be tempered by the judgment of the project team members and executives concerned.
7.4.2

Elements in the Control System

These elements are drawn from Figure...
Copyright The McGraw-Hill Companies, Inc. 2004 under license agreement with Books24x7
---
Products & Services
---
Topics of Interest