From
Electronics I Laboratory Manual
A common-emitter amplifier1 in general will include three coupling capacitors that play an important role in the low-frequency response of the system. These capacitors are the input and output coupling capacitors2 and the emitter biapass capacitor3.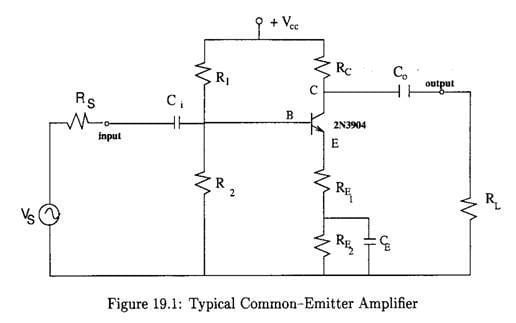 Figure 19.1 shows a typical common-emitter amplifier with a source, Vs (including its source resistance, Rs) and a load, RL. The low-frequency response of this amplifier is determined in part by these three capacitors (Ci, Co and CE). The result is essentially a combination of three high-pass filter networks that allow signals having frequencies greater than the cutoff frequency of the dominant network to pass through while attenuating all others. This frequency is the so-called 3-dB point. At this frequency, as you should know, the voltage is only 70.7% of the mid-frequency gain, or in decibels, it is the frequency at which the gain is 3-dB below the mid-frequency gain.
Each one of the three capacitors makes a contribution to the overall frequency response of the amplifier. Each one behaves like the capacitor in a high–pass filter. Therefore, each one will contribute with a cutoff frequency of its own.
More >>
Show More...
© 2018 GlobalSpec, Inc.
---
Products & Services
---
Topics of Interest