From
Fluid Handling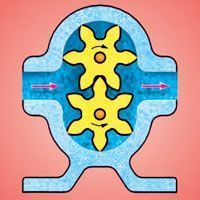 While not as common as centrifugal pumps in the CPI, gear pumps play important roles in handling many of today's more difficult-to-pump fluids. Because they operate at lower speeds — generally, 900 rpm or less — their seals and bearings tend to last longer than those of centrifugal models. In addition, unlike centrifugal pumps, gear pumps' flows are independent of their systems' pressure curves, and they can handle a wider range of viscosities.

Although high-flow, low-head applications remain the domain of centrifugal pumps, the use of gear pumps is increasing in the chemical process industries (CPI). While some application boundaries between gears and centrifugals are blurring, there are some crucial differences between the way the two are operated and maintained — for example, where pressure relief is concerned. This article provides a general summary of gear pump characteristics and applications, highlighting critical aspects of installation, operation and maintenance.

Generally, gear pumps are used in both metering and general fluid transfer applications. Metering units tend to be smaller and built to closer tolerance levels than general transfer pumps.
In the past, most applications ran at fixed speeds, but today, variable speed drives are gaining popularity. Standard industrial pumps are available with...
More >>
Show More...
© 2018 Chemical Engineering
---
Products & Services
---
Topics of Interest