From
Fluid Handling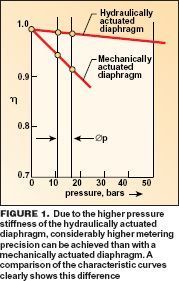 Operators of equipment in the CPI and the offshore drilling industry are forced more and more to balance economy and ecology. No longer focusing on just investment costs, they now review in detail total energy consumption, availability, maintenance costs and environmental loads.
In the case of toxic, hazardous, corrosive or otherwise critical fluids, the best solution is leak-free transport. In many low-flow, high-pressure applications, diaphragm pumps offer an optimum solution. They have proven their safety and reliability in numerous installations.
What follows is an overview of the different types of diaphragm pumps, the pressure and delivery range and some applications. Successful operation requires knowledge of their function, their characteristics and their interaction with the associated piping.

Materials determine the range
Diaphragm pumps are best used for low-to-medium flow rates at medium to- high pressures. They have the three advantages of reciprocating displacement pumps, pressure firm characteristics (explained in Figure 1), high accuracy and high efficiency. They avoid a major disadvantage: they do not leak. All susceptible parts operate sealed from the fluid pumped except for the product valves.
It is important to distinguish between mechanical and hydraulic diaphragm drives. The mechanically actuated diaphragm is a pressure-bearing part that is limited...
More >>
Show More...
© 2018 Chemical Engineering
---
Products & Services
---
Topics of Interest