From
Fluid Handling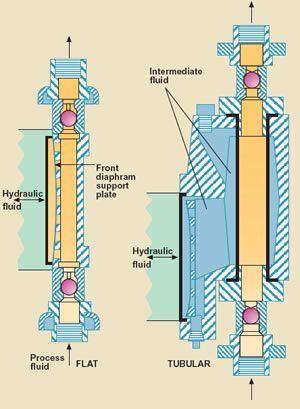 Diaphragm metering pumps that are hydraulically rather than mechanically actuated offer numerous attractions. Their accuracy is high (typically around 1%), and they can operate leakfree even under high pressures (around 5,000 psi). And, they have rightly gained a reputation for being able to handle slurries and corrosive fluids.*
In spite of this versatility, optimal specification and use of these pumps requires attention to a broad range of properties of the pumped fluid. These include vapor pressure, viscosity, rheology, temperature, corrosiveness, solids content and specific gravity.
Vapor pressure
As with other pumps, the vapor pressure of the fluid being pumped is important because it helps establish the available net positive suction head (NPSH) at the pump inlet. To assure proper delivery of the fluid to the inlet, the available NPSH must be equal to or greater than the manufacturer's stated requirement for the pump. Otherwise, the resulting cavitation can cause the pump to lose metering accuracy or even the ability to move the fluid at all.
Determination of the available NPSH for a metering pump is more involved than that for a centrifugal pump. The metering-pump equation is:
NPSHa = Pa + Ph - Pv - LRGQ/C...
More >>
Show More...
© 2018 Chemical Engineering
---
Products & Services
---
Topics of Interest