From
Fluid Handling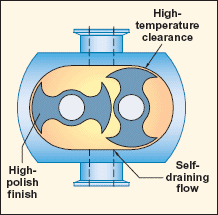 When it comes to pumping high-purity fluids, not any pump will do. Processors of pharmaceuticals, foods and beverages and biological compounds must consider pumps in ways that may not be particularly relevant to processors in other sectors of the chemical process industries (CPI). For instance, considerations such as cleanability, pump style, materials of construction, process connections and other areas where contamination can be tightly controlled are essential to ensuring acceptable operation.
Many regulatory agencies and industry associations have some input in specifying and setting standards for high-purity equipment. Among them, the International Organization for Standardization (ISO; Geneva; iso.org) publishes global standards for manufacturing pharmaceuticals and other products that must meet strict standards of cleanliness. The 3A sanitary standards, administered by the International Assn. of Food Industry Suppliers (IAFIS; McLean, Va.; iafis.org), provide guidelines for the application and manufacture of cleanable equipment. These standards, originally developed by the dairy industry, are now widely cited when designing sanitary systems.
Pharmaceutical manufacturers in the U.S. must also conform to current Good Manufacturing Practices (cGMP), as mandated by the U.S. Food and Drug Administration (FDA; Washington, D.C.; fda.gov). Bioprocessing guidelines, ASME-BPE-97, published by the American Soc. of Mechanical Engineers (ASME; New York; asme.org) are...
More >>
Show More...
© 2018 Chemical Engineering
---
Products & Services
---
Topics of Interest