From
Fluid Handling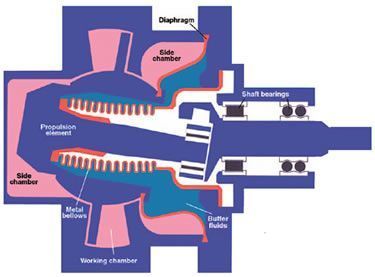 Pumping fluids containing microorganisms - especially in the areas of pharmaceuticals, foods and beverages, and waste water purification - has always been a problem in the chemical process industries. Many biological substances are extremely sensitive to mechanical stress, such as laminar shear forces, turbulence and phase boundary effects. The production pumps must be kept sterile over prolonged periods and they must ensure gentle media transport. As a rule the smaller the volume to be pumped, the higher the value of the product. The standards to be met by the pump intensify accordingly.
Our mission was to evaluate 121 types of pumps and select the best design for biochemical media. We even studied unconventional and rarely used designs like solenoid pumps and fishtail drives. [1,2,3]. We settled on the nutating1 disc principle as worthy of extensive development and testing. Mechanical details of this pump design are collected in the accompanying box.
Other types of pumps used for sterile processes have disadvantages. None was able to satisfy these requirements: immunity to contamination of the pumped medium, immunity to contamination of the environment, gentle media handling, and suitability for Cleaning-in-Place (CIP) and Steaming-in- Place (SIP). (For more on CIP, see CE,...
More >>
Show More...
© 2018 Chemical Engineering
---
Products & Services
---
Topics of Interest