From
Fluid Handling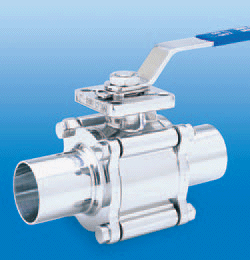 Pristine processing, where high purity and contamination control are extremely important, is a familiar concept for pharmaceutical production and microelectronics fabrication. Increasingly, it is also an issue for the manufacture of agricultural and fine chemicals, and in environmentally sensitive processes. Regardless of the application in the chemical process industries (CPI), the approach to valve selection when clean processing is involved is very different from that taken when purity requirements are not as stringent, or are nonexistent.
Compared with other applications where valves are used, clean processes typically have three major distinctions:
Different types of valve are used
More valve are used
More valves are actuated and
automatically controlled
An assortment of valves
In contamination-sensitive processes, the first step is to select valves that do not harbor trace amounts of contaminants, and are easy to clean. In the pharmaceutical industry, for instance, the diaphragm valve is generally regarded as the only choice for a generalpurpose valve in process fluid applications. Why? Because it has no crevices or recesses to harbor contaminants, and, when open, it exposes only smooth, gently curved surfaces that are easily cleaned. When closed, it squeezes product out, so as not to trap significant amounts of residue in...
More >>
Show More...
© 2018 Chemical Engineering
---
Products & Services
---
Topics of Interest