From
Fluid Handling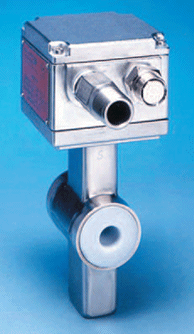 When it comes to measuring high-purity fluids, not all flowmeters are created equal. In addition to the accuracy, repeatability and reliable operation that is required of any flowmeter, the device must be designed and constructed so as to prevent contamination of both the fluid itself, and the process or product in which it is used. Just as for other essential elements in the flow loop - valves (Chem. Eng., June 2001, pp. 107-111) and pumps (Chem. Eng., April, pp. 87-89), along with control algorithms and loop tuning - certain specifications and standards must be met.
For producers of food and beverages, pharmaceuticals and biotechnology-derived products, the objective in maintaining a clean process environment is to prevent the growth and spread of organic matter, such as harmful bacteria, that can contaminate products or threaten human health. Semiconductor fabricators, on the other hand, who require water and chemicals so pure that some contaminants have to be removed to parts-per-billion levels, are primarily concerned with inorganic constituents that can lower chip yield. The specific flowmeter requirements for semiconductor production will be discussed in a future article.
Throughout the chemical process industries (CPI), flowmeter performance attributes, such as accuracy, repeatability...
More >>
Show More...
© 2018 Chemical Engineering
---
Products & Services
---
Topics of Interest