From
Fluid Handling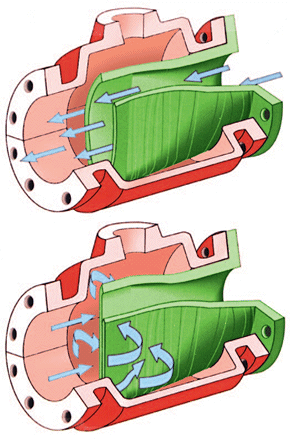 Liquid-solid suspensions, called slurries, are produced and handled in many processes throughout the chemical process industries (CPI). Layout and mechanical design considerations are as important as hydrodynamic aspects, such as line sizing, pressure drop and critical deposition velocity, when designing piping systems to handle slurries. Because of the nature of slurries, proper layout and mechanical design are critical to prevent operational problems, such as pipeline plugging and erosion.
Although there are numerous articles and several good books on the hydrodynamic aspects of slurry handling and piping design, there is little information in the open technical literature on practical layout and mechanical-design practices. This article corrects that situation for slurry piping systems. Much of what is presented here was gathered from the technical literature and from design manuals produced by several engineering contractors and engineering departments of chemical manufacturers. The focus is on aboveground slurry piping systems, which are the most common type found in chemical, petrochemical and pharmaceutical plants.
Key selection criteria
Materials of construction. Materials of construction for slurry piping systems are usually selected for their ability to resist corrosion or erosion by the slurry. The following common slurry piping materials have been widely used in the CPI:
More >>
Show More...
© 2018 Chemical Engineering
---
Products & Services
---
Topics of Interest