Profile Home
About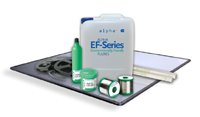 Alpha Assembly Solutions, a business unit of Alent plc, is the global leader in the development, manufacturing and sales of innovative specialty materials used in a wide range of industry segments, including electronics assembly, power electronics, die attach, LED lighting, photovoltaics, semiconductor packaging, automotive and others.
With a unique global presence in over 30 locations throughout the Americas, Europe and Asia Pacific regions, Alpha Assembly Solutions supplies a full line of ALPHA® electronics assembly material products, including Solder Paste, Exactalloy® Solder Preforms, Cored Solder Wire Solder, Wave Soldering Fluxes, Bar Solder Alloys, and Stencils. It offers die attach product technologies to the power electronics segment in its Argomax®, Atrox®, Maxrel™, and Fortibond™ brands. For the LED segment, Alpha offers its Lumet products covering applications from die attach to systems assembly in the LED manufacturing process.
Alpha Assembly Solutions also offers product technologies for the Photovoltaic segment, including its unique pre-fluxed Ready Ribbon®, high performance standard ribbon, bus bar, solder wire and flux. Alpha's Advanced Materials unit is the leader in electronic polymers and solder materials for semiconductor packaging applications. Since its founding in 1872, Alpha Assembly Solutions has been committed to developing and manufacturing the highest quality specialty materials.
Alpha Assembly Solutions is listed in these service categories:
Technical Articles