About
Established in 1973, Atlanta Foam has risen to become one of the Southeast's premier packaging materials fabricators. With a talented team of sales partners, designers and customer/manufacturing support personnel, Atlanta Foam is motivated to meet the needs of their regions growing industrial base.

Service Beyond the Sale
Atlanta Foam is committed to customer service - service beyond the sale. They specialize in JIT delivery and offer turnkey solutions for your industrial, medical, electronic, and automotive packaging needs. Over 35 years in this business guarantees you the results you want and the support that you require. Atlanta Foam is one of the largest fabricators in the southeast with a 100,000 square foot plant. Plant operations include gluing, assembly and warehousing.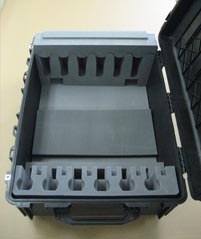 Green Action
For more than 30 years Atlanta Foam Fabricators has recycled all of its excess Urethane Foam. These trimmed off pieces from their die presses, water jet cutters, and routers are compacted and then shipped off to a carpet pad manufacturer for processing. Atlanta foam recycles all their Polyethylene scraps as well.
Outstanding Customer Service
Atlanta Foam specializes in JIT service. They will service your job from concept to delivery. Atlanta Foam handles all samples and prototypes. Quotes produced quickly and accurately. They will meet directly with the customer on-site (on-site design at your facility if necessary).
Supplier Directory Categories
Atlanta Foam Fabricators is listed in these categories: