About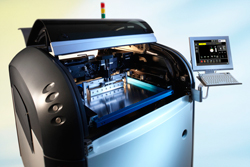 DEK is the global market leader in precision material deposition and mass imaging for advanced electronics assembly, semiconductor packaging and alternative energy technologies. The company designs and manufactures high-reliability screen and stencil printing platforms that set the industry standard for speed, accuracy, repeatability and quality.
Users of DEK platform products including Galaxy, Europa, Photon and Horizon can benefit from equipment performance upgrades, optional automated Productivity Tools, an extensive range of high-quality consumables, and a comprehensive support services portfolio that includes process knowledge transfer, process optimization and emerging technology applications.
In addition, DEK manufactures precision screens and stencils, including the award-wining VectorGuard stencil technology that delivers greater accuracy, reliability and robustness while reducing storage overheads. All DEK emulsion screens and stencils are also backed by world-class process expertise.
The company's goal is to drive down the cost of its customers' critical manufacturing process operations while improving productivity and offering maximum equipment and support flexibility to provide the best value and greatest return on investment. With its global sales and support infrastructure, DEK continues to position its expertise and resources close to customers, ensuring fast, efficient and effective delivery to achieve its goals.
DEK offers:
Award-winning flexible screen printing platform equipment and technologies used in surface mount electronics assembly, semiconductor packaging, and solar & fuel cell manufacturing
Advanced Productivity Tools to enhance platform equipment throughput, yield and productivity
Fast-turnaround precision screens and stencils with 24-hour online ordering and direct CAD data upload
A range of high-quality consumables and Process Improvement Products
A comprehensive global infrastructure to deliver unparalleled field support, process expertise and industry knowledge with 24-hour online and telephone ordering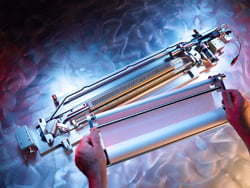 Customers remain at the heart of DEK's operations worldwide, resulting in the organization serving some of the world's leading industrial and consumer brands. They trust the company's knowledge and people to innovate, develop and deliver complete solutions to 21st Century productivity challenges, meeting all of the technical, commercial and environmental targets that define success in these competitive manufacturing sectors.
DEK enjoys a rich technology heritage spanning more than four decades and which has consistently delivered breakthrough solutions to market including the ProFlow® enclosed printhead technology for enhanced material deposition control, GridLok™ board & substrate support tooling for high-speed setup and rapid product changeover, and Instinctiv™ V9 – the company's superior graphical user interface that dramatically simplifies equipment operation.
As part of the Dover Group (NYSE:DOV) and as a successful market leader, DEK enjoys financial stability and the ability to continuously invest to drive product and process innovation.
Supplier Directory Categories
DEK is also listed in these categories: