About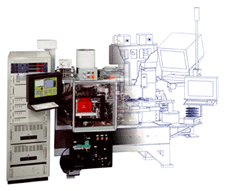 DWFritz Automation designs and builds sophisticated, turnkey, custom automation systems for multiple industries such as high-tech, medical device, semiconductor, and consumer products. They have significant experience with technologies such as:
Robotics
High speed and precision part assembly
Machine vision (both low cost and high-performance)
Precision lamination/thermal bonding using heat and pressure
Automated inspection
Ultra-precision servo control
Material handling
Wafer handling and inspection
Precision dispensing
Precision positioning/pick & place of dies onto wafers
Integration of off-the-shelf systems with custom equipment
DWFritz Automation Offers
Full Service:
DWFritz offers analysis, specification, design, prototyping, system fabrication, testing, and installation of sophisticated automated manufacturing systems.

Creative Solutions:
DWFritz' designs combine the creative use of new technology with practical, proven engineering concepts. The result is simple: a cost-effective system that meets or exceeds your automation requirements.

Turnkey Systems:
DWFritz will work closely with your team to design a system that meets your needs. They then build, shop test, and install it.

Project Management:
DWFritz takes full responsibility for the project. They manage every detail from concept through fabrication, assembly, testing, installation, and support.

Experienced Design Team:
DWFritz' engineers average more than 14 years experience in the automation industry and bring that knowledge to your project. They have four Professional Engineers on staff.

Reliability:
DWFritz knows from experience that simple designs work better and last longer. 95% of their machines are installed in a production environment requiring 24/7/365 operation.

Competitive Pricing:
Simple designs and careful project management keep costs down and increase value.

On-Time Delivery:
Comprehensive project management, plus commitment, enables DWFritz to execute and deliver your project on schedule.

Support:
All installations are covered by warranty. On-going service, upgrades, and maintenance are available from the very same team who built your machine. In addition, DWFritz has a 24/7 support line.

Facility:
DWFritz has over 28,000 square feet in their facility, including over 18,000 square feet of assembly area and over 500 square feet of Class 10,000 clean room.

Training:
DWFritz offers on-site training for all installations.

Documentation:
Each project team includes an experienced, full-time technical writer who directs the documentation of every DWFritz Automation project.

CE certification:
DWFritz routinely CE certifies their systems for European delivery.
Supplier Directory Categories
DWFritz Automation, Inc. is also listed in these categories: