About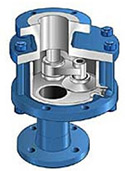 Everlasting Valve Company was founded in 1906 by Patterson Allen Engineering, New Jersey, to manufacture and market steam boiler blowdown valves. During the 1960s, the distinctive features of the Everlasting Rotating Disc Valve were incorporated into our process valves, bulk material valves and diverter valves. Engineered for exceptional performance, longevity and value, our valves have replaced knife gates, pinch valves, slide gates, rotary air lock, double dump, ball and plug valves. Today, Everlasting Valve continues to set the industry standard as the valve of choice in severe service applications around the world.
Everlasting Valves are built using advanced computerized and robotic equipment, operated by our highly skilled and trained technicians. Every valve is assembled and tested in our ISO 9001:2008 certified facility in South Plainfield, New Jersey, U.S.A. We design, engineer and manufacture every component of each Everlasting Valve, giving us the vast expertise and capabilities necessary to provide custom solutions for your unique requirements.
Everlasting Valve is the preferred valve for customers requiring outstanding durability, performance and value in shut-off and isolation applications, worldwide. We serve a wide range of industries, including: Portland cement; coal-fired power plants handling fly ash and bottom ash; petroleum production and refining—FCC and CCR catalysts, coke; inorganic chemicals such as titanium dioxide and gypsum; chemicals, resins and catalysts; coal gasification and liquifaction; cellulosic ethanol; synfuels; and many others where the handling of abrasive solids and slurries is critical.
Over 100 years of continuous manufacturing gives us experience and expertise in the valve industry that allows us to produce exceptionally reliable products. Everlasting Valve, a wholly owned subsidiary of Armstrong International, continues its long tradition of high quality manufacturing. Our company is capable of performing a wide variety of in-house operations, including:
• Machining (CNC and manual)
• Robotic and manual welding
• Sawing and cutting
• Heat treatment
• Surface grinding
• Lapping
• Assembly
• Testing
• Painting
• Packaging, warehousing and shipping
Supplier Directory Categories
Everlasting Valve Company, Inc. is listed in these categories: