About


GETT North America LLC (GNA) was founded in 2007 to establish the North American market representation for InduKey® input solutions. The InduKey® brand stands for the most sophisticated, high quality standard and customized human machine interface solutions, input devices and accessories.
GNA is responsible for the sales and distribution of InduKey® products and to provide product support and marketing services for our clients and partners.
You will find in our product catalogue immediately deployable devices and field-tested interfaces between man and machine. In addition, GETT/InduKey has at the company headquarters in Treuen within the company group manufacturing capacities of its own, so that even customized solutions can be quickly and easily implemented.
"Every conceivable data input system is feasible" is the credo of the developers in Treuen who are constantly searching for new forms of HMI communication. Even today, InduKey disposes of technologies that go beyond the current standard of technology. So, if you have only a vague idea, we can accompany you part of the way or up to the complete product realization.
The extensive standard program, a complete package of services for personalized customer solutions as well as the possibility to access individual production stages and the OEM manufacturing capacity make GETT/InduKey a central contact point all around the topic data input.
The business area "Products" offers an extensive, vendor-independent range of field-tested, immediately usable data input devices. These include keyboards, cursor controls, touch screens, decoder and functional components for each request.
The business area "Customizations" offers you a complete service package of developers and manufacturing of personalized data input systems. From individual operating components with user-friendly operating panels up to complex equipment building, InduKey designs and manufactures precisely according to customer specifications. All technologies of data input are available. Through flexible organization even small quantities can be implemented quickly.
The business area "Services" offers all the in-house production and services to external customers. Here you get direct access to production stages. Among others, the R & D services, extensive production services as well as the assembly of circuit boards are available. The OEM production provides the combined form of services at our own manufacturing facilities in Germany and China.
Supplier Directory Categories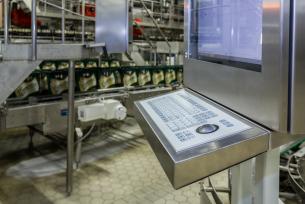 GETT North America LLC is also listed in these categories:
Technical Articles


Cleankeys Keyboards in Use at a Pharmacy
(Computer Peripherals)
The pharmacy at the Elsterpark Centre in Plauen is one of the best-known in the region. Mr Ikels, the owner of the pharmacy, not only places great importance on providing professional advice, but also... (
View Full Article
)