About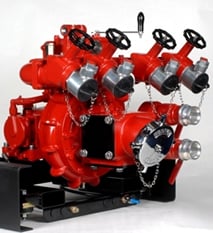 Hale Products Inc. is a Fire and Rescue equipment company that consists of seven business units located throughout the world. Hale Products Inc. includes the brand names of Hale, Hurst, Class 1, Godiva, Lukas, Vetter and Dinglee -some of the most recognized brand names in the world for fire and rescue equipment.
Hale Products was founded in 1914 by three Pennsylvania firefighters who believed they could build a better fire pump. Today, Hale Products, Inc. is much more than just fire pumps. In the last 92 years Hale Products has grown through new product innovation and strategic acquisitions to include rescue tools, engine controls / governors, valves, air bags, pressure gauges, hydraulic cylinders, supports and struts, heavy duty lighting, and Es-Key multi-plexing systems.
During the 1980s Hale made two key acquisitions of Hurst and Godiva. In 1984, Hale Products acquired Hurst. Hurst is the developer of the famed "Jaws of Life®" line of rescue tools. The Jaws of Life rescue tools are designed for extrication of victims trapped in wrecked cars and other life-threatening situations. This purchase gave Hale its first entry into the rescue marketplace. In 1989, Hale acquired Godiva in Warwick, England. Godiva is a manufacturer of portable, high-pressure, and rear-mounted fire pumps and is one of the leading fire pump manufacturers outside the United States. This acquisition allowed Hale to bring the USA based Barton/American Godiva fire pump products under the Hale umbrella of products.
In May of 1994, Hale Products, Inc. was acquired by IDEX Corporation located in Northbrook, IL. IDEX is a diversified corporation with large national and international markets in fluid-handling, dispensing, and industrial machinery. Formed in 1988, the publicly traded company reported 2005 sales in excess of $1 billion. Throughout their ownership IDEX has been supportive of Hale Product's tactical vision for organic and inorganic growth through the acquisition of key fire and rescue equipment manufacturers.
With this financial support, Hale Products, Inc. continued to expand into the worldwide fire and rescue market. In 1995, Hale acquired Lukas Hydraulic GmbH, located in Erlangen, Germany. Lukas is the leading European manufacturer of rescue tools and re-railing equipment. With the addition of Lukas, Hale solidified itself as the number one provider of rescue tools in the world. In 2001 Hale acquired Class 1 located in Ocala, Florida. Class 1 is one of the leading suppliers of electrical and electronic control components and systems, and plumbing components and systems in the fire and rescue market. Class 1 provided Hale with the opportunity to become the only USA based supplier who could provide all the products inside the pump house of a fire truck.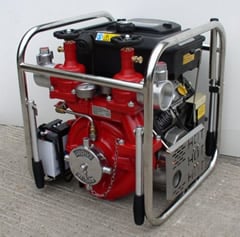 Since early 2000 Hale has extended its growth path. In 2004 Hale purchased Manfred Vetter Gmbh and Company located in Zulpich, Germany. The addition of Vetter expanded Hale's rescue product offerings into lifting bags, sealing bags, decontamination tents, and other rescue and environmental protective products. In 2005, Hale acquired Tianjin Dinglee. Dinglee is the leading manufacturer of rescue tools in China. This acquisition will allow Hale Products to gain access to the Chinese market. The most recent acquisition by Hale Products Inc. was Airshore International in January of 2006. Airshore International is one of the leading manufacturers of stabilization struts, jacks, and shores used in fire and rescue applications.
To better service the fire and rescue market, Hale Products has positioned its brands into two specific groups - Hydraulic Equipment and Fire Suppression. The Hydraulic Equipment Group is made up of the Hurst, Lukas, Vetter, Dinglee, and Airshore brands. Their main focus is on the rescue, environmental and industrial markets dealing with their legacy product lines. The Fire Suppression Group is made up of Class 1, Hale Pumps and Godiva. This Group's main focus covers products dealing with pumps and fire supplies to focus the combined strength of these companies to provide a higher degree of service and innovation that would not have been possible if the companies were working independently.
Today, Hale Products, Inc. is a strong, growing company that is dedicated to innovation of new products and the expansion of current and new markets domestically and internationally. Hale will continue to strive to be the premier "Problem Solver" within the fire and rescue industry because in the end "Lives Depend On It."
Supplier Directory Categories
Hale Products Europe, Ltd. is also listed in these categories: