About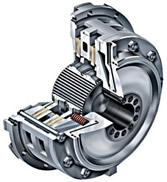 Established in 1930, Industrial Clutch Products has designed and manufactured a complete line of dry and oil-immersed clutches and brakes, ranging in size from 8 to over 42 inches in diameter, with torque capacities exceeding four million pound-inches. We also specialize in hydraulics and controls for use with our clutches and brakes.
We pride ourselves in our ability to respond to customers needs for standard, modified and custom designs for unique or volume requirements. We are dedicated to ongoing research and development programs and full scale testing.
Ameridrives purchased Industrial Clutch Products in April 1997 with the commitment to continuing to produce world class clutches and brakes for a worldwide market.
Worlwide installations include metalforming, mining, and marine applications to name a few. Industrial Clutch components have been satisfying power transmission needs at a competitive price for almost 70 years.
Check out our different products with our online catalog, fill out our inquiry form or contact us for help with your application.
Supplier Directory Categories
Industrial Clutch Products is also listed in these categories: