About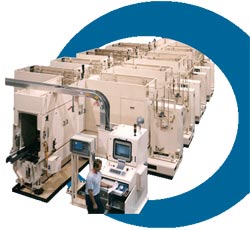 Ingersoll Production Systems has been a world leader for over 100 years in developing new technologies for the production of parts in high volumes. Throughout their long history, they have introduced many new technologies and industry standards that have advanced manufacturing capabilities in all parts of the world. Specializing in the integration of the total process-fixturing, tooling, software, automation, custom fabrication, and auxiliary equipment - Ingersoll Production Systems can help customers respond to fast-changing market conditions.
Ingersoll Production Systems' products include a line of stand-alone horizontal and vertical CNC machining centers, dedicated and flexible transfer machines, flexible hybrid machining systems, special purpose machines including custom fabrications. They continue to expand their products and solutions to meet changing customer needs. Ingersoll Production Systems' new subsidiary company, DMTG North America, provides manual and CNC lathes, vertical and horizontal machines to the North American market.
Headquartered in Rockford, Illinois, Ingersoll Production Systems has the capacity to expand quickly utilizing their engineering, manufacturing, and assembly contract partners. Ingersoll Production Systems has been a member of the Dalian Machine Tool Group (DMTG) since 2002. As the largest machine tool manufacturer in China, employing 10,000 people, DMTG operations include two 90-acre manufacturing and assembly facilities in the port city of Dalian.
Imagine what you and Ingersoll Production Systems can do together
Supplier Directory Categories
Ingersoll Production Systems is listed in these categories: