About
Kaydon Corporation Bearings Division – Turning Ideas into Engineered Solutions
Kaydon Corporation, Bearings Division is the world's leading manufacturer of thin-section bearings, known for saving space and weight in applications ranging from industrial machinery and medical equipment to semiconductors and wind turbines. They are also a major producer of slewing ring/turntable bearings, remanufactured bearings and replacement bearings.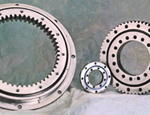 Kaydon offers a wide range of standard configurations and develops advanced custom bearings to meet specific application needs.
Rugged and reliable slewing ring bearings are another Kaydon specialty. They are widely used in wind turbines, tunnel boring machines (TBM), cranes, excavators, aerial work platforms, radar pedestals, scanning equipment, machine tools, and more. The range includes 4-point contact ball, 8-point contact ball, cross-roller, and 3-row roller bearings, from 2 inches to 240 inches in diameter.

In addition to saving space and weight, REALI-SLIM® thin-section bearings provide high dynamic capacity and long life. Bore sizes range from 1" to 40" (20 mm to 360 mm) and cross-sections from 3/16" to 1". They are available in inch or metric sizes, open or sealed, in stainless steel, and extra-light.


Kaydon remanufactured bearings perform like new but cost much less. They offer unsurpassed quality with a full-year warranty, as well as fast turnaround for diameters from 10" to 240". A full line of OEM replacement bearings is also available. ISO-certified facilities include NDT and engineering support. For standard, custom or remanufactured bearings, Kaydon has the experience, facilities, and customer support — including free, proprietary design tools — to help solve your most challenging motion control problems.
Supplier Directory Categories
KAYDON Corporation Bearings Division is also listed in these categories:
Technical Articles